This White Chocolate Coconut Mousse is a decadently delicious dessert for a special occasion!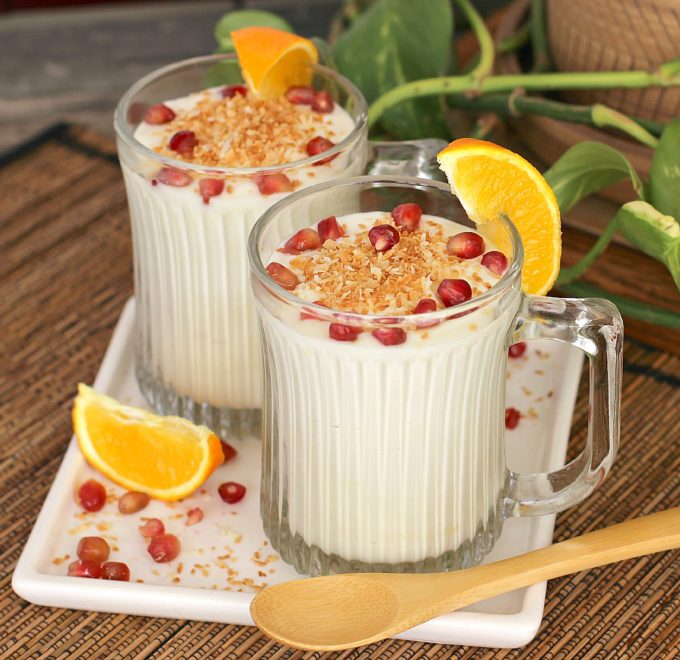 I have to share this super delicious decadent dessert recipe with you that is so quick and easy to make. This White Chocolate Coconut Mousse looks beautiful and festive, tastes great and is perfect for holiday entertaining.
Sometimes simple things like this White Chocolate Coconut Mousse (that's a mouthful!) can be as tasty and pleasing as something you've labored over for hours and it only takes about 15 minutes to make it. That's one of the great things about this dessert. Besides the fact that it's totally delicious! And…no baking required!

It can be made either vegan or vegetarian depending which white chocolate you choose to make it with. Because it's a rich dessert, you don't need a huge portion to satisfy your sweet tooth.
Since it's a dessert using the cream from a can of full fat coconut milk, you do have to refrigerate your can of coconut milk ahead of time so the cream will separate and solidify. So there is a think ahead element to this recipe. Other than that, it comes together very quickly.
Besides being a great dessert to serve to guests at home, it also travels very easily so you can bring it along to a friend's house for any holiday get-togethers or other special occasions. And I bet you that everyone will love it!
Adding the toppings of toasted coconut and pomegranate seeds give it a special touch and might even bring you some oohs and ahhs – a real crowd pleaser!
So without further ado …
Here is the recipe:
White Chocolate Coconut Mousse
This dessert is simple and delicious with a festive flair. It can be made either vegan or vegetarian depending which white chocolate you choose to make it with.
Servings:
3
- 1/2 cup servings
Ingredients
1

can full fat coconut milk

3

Tablespoons

fresh squeezed orange juice

1 1/2

teaspoons

pure vanilla extract

5

ounces

white chocolate

toasted coconut

pomegranate seeds
Instructions
***NOTE: Refrigerate your can of full fat coconut milk overnight to separate and solidify the coconut cream from the coconut milk***

Remove the can of coconut milk from the fridge and scoop out only the solid white cream and put into a bowl

Save the milk that's left in the bottom of the can to use in something else, like a smoothie

Add the orange juice and the vanilla to the bowl with the coconut cream and beat together with an electric hand mixer on low speed for a couple minutes until a thick heavy cream is formed

To melt your chocolate, place your broken up pieces in the top of a double boiler or a metal bowl over a pot of simmering water (*Important* - make sure the water doesn't touch the bottom of your bowl - but just allow the steam to heat the bowl with the chocolate)

Stir your white chocolate as it's melting with a rubber spatula until it's melted and creamy and then remove from heat

Add 2 heaping Tablespoons of the whipped coconut cream to your melted chocolate and gently stir together until combined

Slowly and gently fold this mixture into the bowl of whipped coconut cream until well combined

Spoon the mousse into mini dessert glasses of your choice - 2 to 4 ounce size is perfect

Toast a small amount of coconut in a dry frying pan

Top your mousse with toasted coconut and pomegranate seeds and garnish with a fresh orange wedge

ENJOY!
DID YOU MAKE THIS RECIPE?
Tag @vegeliciouskitchen on Instagram and hashtag it #vegeliciouskitchen so I can see your creation! *Please note that the nutrition information provided is only a close estimate using an online nutrition calculator.*
Recipe inspired by: thescrumptiouspumpkin
Other sweet treats to check out on VK
Chocolate Walnut Freezer Fudge Bites
Let me know if you try this White Chocolate Coconut Mousse or if  you would like to. Please leave a comment and a rating below. I'd love to hear from you!
Thanks friends,