These Maple Glazed Nuts are a festive holiday mixture of cashews, pecans, walnuts and almonds with tart cranberries and maple syrup!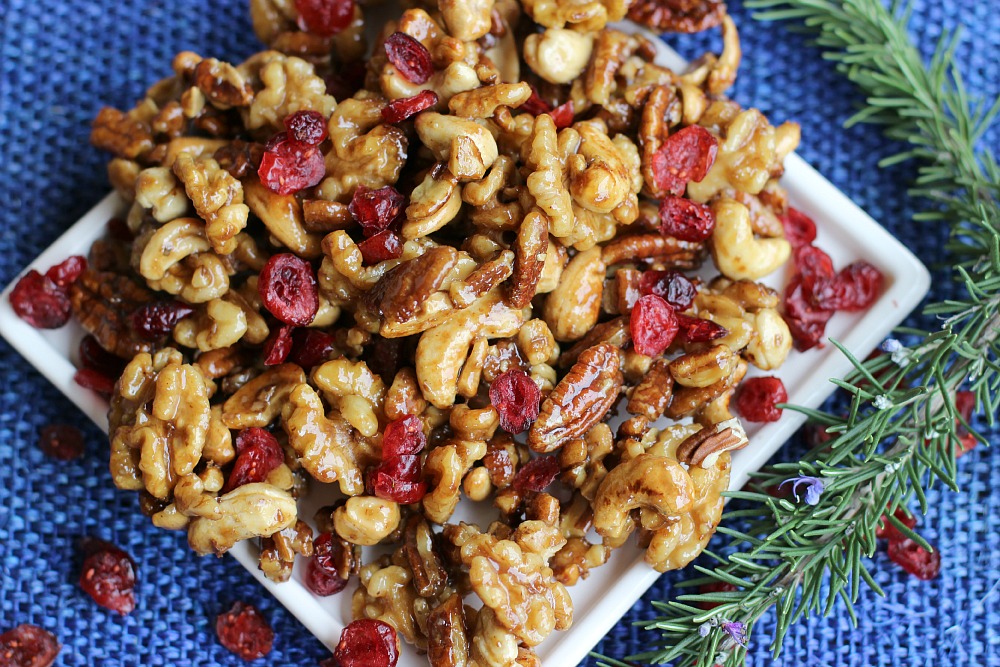 Maple Glazed Nuts
Happy December!
With Thanksgiving behind us, it's time for the Christmas festivities to begin – and time to break out the holiday recipes! It's interesting how food-centric all these holidays are but we love to get into that Christmas mood, listen to Christmas music and create and eat yummy treats don't we? There's something about this that gives us such good feelings.
Besides, it's a great reason to be creative and have fun in the kitchen. All the while making excuses that our New Year's resolution will be to go on a diet after the holidays, right? Ha ha! That's me anyway – some things just don't change!

It doesn't matter what time of year it is, I always can find a reason to eat maple syrup. I grew up in New Hampshire and lived in Vermont where maple syrup abounds! There are so many places there that make and sell maple syrup and it's one of those things I never get tired of.
I'm not crazy ya know! The more the merrier when it comes to maple syrup.
So, something that is super simple but also a festive treat or gift is maple glazed nuts. You can make them with just one kind of nut like walnuts for example or a variety like pecans, cashews, almonds, walnuts, etc. You could even add some sunflower or sesame seeds.
Besides being eaten as a treat or snack, these nuts are a great addition to a salad to add a sweet nutty flavor and crunchy element, a topping for yogurt or ice cream, chopped and stirred into a cake or quick bread recipe or used as a cake or quick bread topping – and probably a lot of other things!

The recipe for the maple glazed nuts has only 3 ingredients – your nuts/seeds, maple syrup and salt. Now how easy is that! Afterwards, you can add the 4th ingredient if you like – dried fruit like cranberries or cherries. Something red always gives such a festive pop of color!
Recipe for Maple Glazed Nuts:
Maple Glazed Nuts
This simple recipe can be eaten as a special snack, a festive salad topping, etc. These maple glazed nuts also make a great holiday gift
Servings:
4
- 1/2 cup servings
Ingredients
2

cups

mixed unsalted nuts - cashews

pecans, walnuts, almonds

1/3

cup

pure maple syrup

1/8

teaspoon

salt
Instructions
Preheat your dry skillet over medium high heat

Add the nut mixture, maple syrup and salt

Cook, stirring frequently until syrup is caramelized and nuts are toasted - about 3 minutes

Spoon the caramelized nuts onto a plate and let cool

You can eat them warm but if they're completely cooled they'll be a bit more crisp

Optional: add dried cranberries or dried cherries
Recipe source: farmerstoyou.com