Zucchini noodles are a "low carb" noodle option that makes a fresh and delicious choice in place of pasta in this Zucchini Noodle Salad.

Whoever started to spiralize vegetables, especially zucchini, was brilliant, don't you think?
Zucchini plants are well known for yielding abundantly and that's why there are so many cookbooks dedicated to using zucchini. "What the heck am I gonna do with all this zucchini?!" Enter ZOODLES!
Well, I don't have any plants growing this year, but zucchini noodles are a great pasta replacement any time of year but especially when the farmer's markets and stands have lots of them available!
Ali Maffucci from Inspiralized is the queen of spiralizing. She spiralizes every vegetable possible and makes delicious meals with them – using them raw or blanched for a couple minutes in boiling water to soften them. Here is a list of what vegetables can be spiralized.
Zucchini Noodle Salad Inspiration
Because zoodles are fun, and I love olives and tomatoes, I made this simple and delicious salad inspired by a recipe from Mimi Kirk.
Mimi is such a good example of what eating healthy foods can do even if you're older, like me. Even at almost 80 years old, she says she wakes up every morning and feels like someone in her 20's. Now that's remarkable! And that's incentive to do things right. Unless, of course, you're in your 20's and don't realize how things change as you age. Thanks for the inspiration Mimi!
About This Zucchini Noodle Salad aka Zoodles Alla Checca
When a recipe is called "alla checca", it means that it's made with an uncooked tomato sauce using only fresh tomatoes. The fresh tomatoes are what distinguishes this dish and this one is a raw food version because of the raw zucchini noodles. It's a great recipe to make any time of year, and even with regular pasta if you prefer, but especially when fresh tomatoes are at their peak!
What You Need to Make This Zucchini Noodle Salad
Zucchini
Tomatoes
Capers
Kalamata Olives
Green pimento stuffed Manzanilla olives
Fresh basil
Olive oil
Garlic
Salt & pepper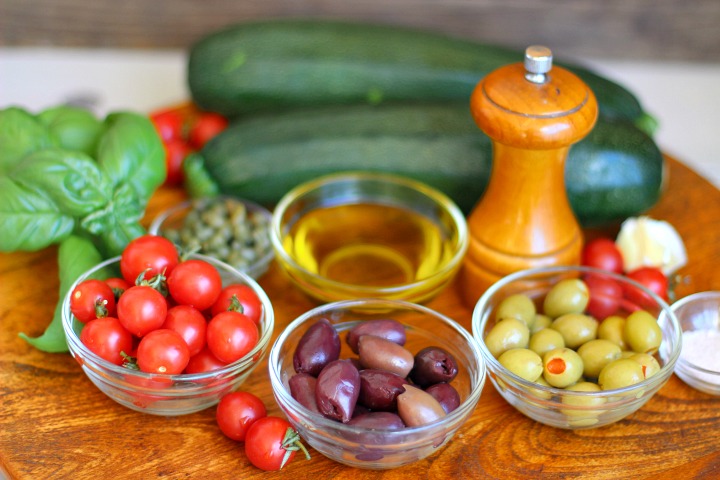 Ingredients for the Zucchini Noodle Salad
To make my zucchini noodles, I used a spiralizer like the one below. There are many different spiralizers available but if you don't have one, you can use a potato peeler and make thin strips of the raw zucchini instead.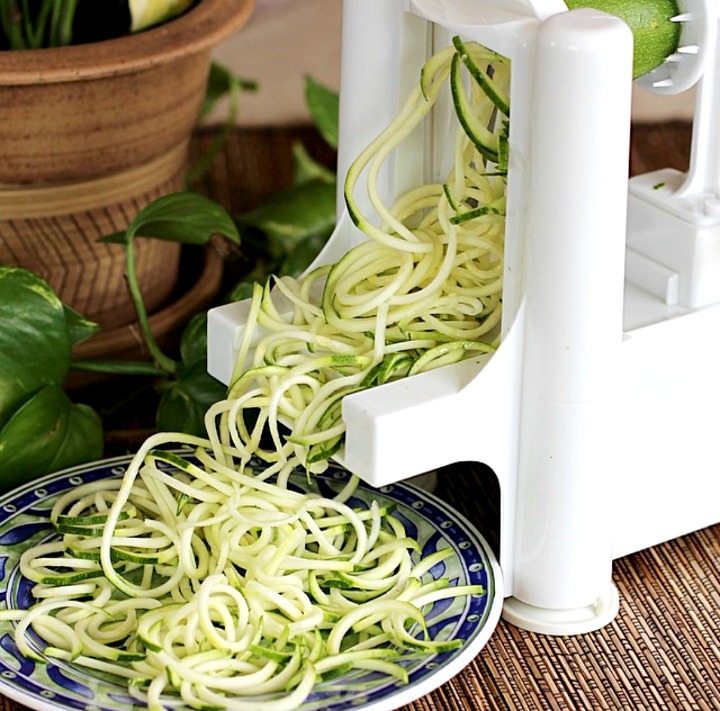 A couple tips –
After you spiralize your zucchini, place you "noodles" in a bowl and sprinkle with a couple pinches of salt and toss to mix in. It's important NOT to put too much salt in though, as it causes moisture to be released from the zucchini, which is what you want, but not too much. Using too much salt will cause your zucchini noodles to wilt and shrink more than you may want them to!
Another thing you might want to do, is cut your zucchini noodles if you're using a spiralizer like mine. The "zoodles" tend to come out in super long continuous strands that may be difficult to eat unless you like slurping up long strands of zoodles for days – Lol! Hey you might – and that's your perogative for sure!
But just in case you don't want to do that, I thought you might want to know this important detail. What I do is to take my kitchen scissors and cut the zucchini noodles to what I think is a more manageable length and easier and more pleasant to eat. You could also use a knife to do this.

Also a comment and a rating below would be greatly appreciated. I'd love to hear from you!
Cheers

Some other delicious salads to try
Colorful Quinoa Salad with Feta

Zucchini Noodle Salad
Raw vegan low carb salad made with fresh zucchini, olives, capers, tomatoes and basil.
Ingredients
4

medium/large zucchini

16 - 20

cherry tomatoes,

cut in thirds

1

clove

garlic

minced

1/3

cup

pimento stuffed green olives

coarsely chopped or sliced

1/3

cup

pitted kalamata olives

coarsely chopped or sliced

2

tablespoons

capers

20

leaves

fresh basil

rolled tightly and thinly sliced (chiffonade cut)

1/3

cup

extra virgin olive oil

Salt and Pepper to taste
Instructions
Spiralize the zucchinis and set aside in a bowl - if you don't have a spiralizer, you can make long flat fettuccini-style noodles with a potato peeler

Sprinkle a couple small pinches of salt over the noodles, toss and let sit for about 20- 30 minutes to release excess water from the zucchini and to soften slightly

**Important note** Do not over-salt the noodles - leave it at a couple of small pinches or your noodles may release so much water that they're wilted**

While your zucchini noodles are resting, prepare your other ingredients and mix together the tomatoes, garlic, capers, 2 types of olives, olive oil, and 3/4 of the basil, salt and pepper and set aside so flavors will blend for about 30 minutes.

After the zucchini noodles have rested for 20 - 30 minutes, using a clean kitchen towel, paper towels or clean hands, VERY GENTLY squeeze out some of the excess water being careful not to squish the noodles.

Place the noodles in another bowl and then gently toss in the tomato mixture and garnish with the remaining basil leaves. Taste and check for salt and pepper - add some if needed.

This salad is best served right away or it may be refrigerated and eaten the next day.
Notes
This recipe is best the day you make it as it will continue to wilt over time. It is still delicious and maintains the fresh crunch of the zucchini noodles the next day, but it may not be as pretty!
Leftovers can be refrigerated in a container with a tight fitting lid for 1 -2 days.
Nutrition
Serving:
1
serving
|
Calories:
232
kcal
|
Carbohydrates:
8
g
|
Protein:
3
g
|
Fat:
22
g
|
Saturated Fat:
3
g
|
Sodium:
480
mg
|
Potassium:
561
mg
|
Fiber:
3
g
|
Sugar:
6
g
|
Vitamin A:
724
IU
|
Vitamin C:
41
mg
|
Calcium:
50
mg
|
Iron:
1
mg
originally posted 3/29/2016
Thanks so much for stopping by. I hope you enjoy this fresh and flavorful Zucchini Noodle Salad!
Cheers,