Smoky Spicy Black Eyed Pea Hummus is another unique and delicious interpretation of this very versatile dip.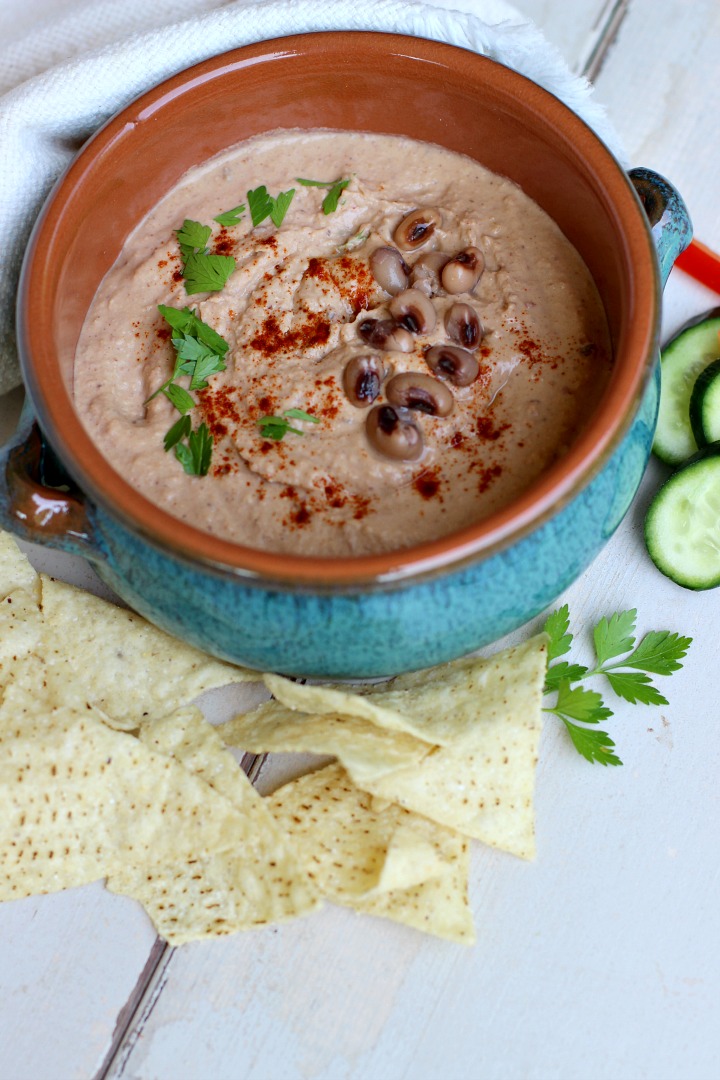 Black eyed peas haven't been on my radar very much I have to admit, until recently. A local restaurant that I discovered uses them in different dishes so, because of that, they caught my attention.
A New Year's Tradition
At New Year's I noticed many people posting recipes using black eyed peas which I thought was interesting. As I since learned, it is considered to bring good luck and wealth to eat black eyed peas sometime in the day on January 1st. This has become a Southern U.S. tradition having it's roots in West Africa.
Well, this isn't New Year's but let's just consider these as "good luck beans" whatever time of year it is, okay?
Different Beans Different Properties
Hummus is usually made with some variety of bean and beans are a good source of plant-based protein. Each variety is a little different from each other in look, texture, carb and fiber content, calories, protein content and minerals.
But, no matter which ones you choose, all beans are nutritious, a high fiber food and are budget friendly. They're a healthy protein source for vegans and vegetarians and actually all eaters for that matter.
A few simple ingredients in this Black Eyed Pea Hummus
In order to make this Spicy Smoky Black Eyed Pea Hummus you need:
Black Eyed Peas
Tahini
Fresh Lemon Juice
Garlic
Chipotle pepper in adobo sauce (small cans found in the Hispanic section of most grocery stores)
Smoked paprika
Salt
Water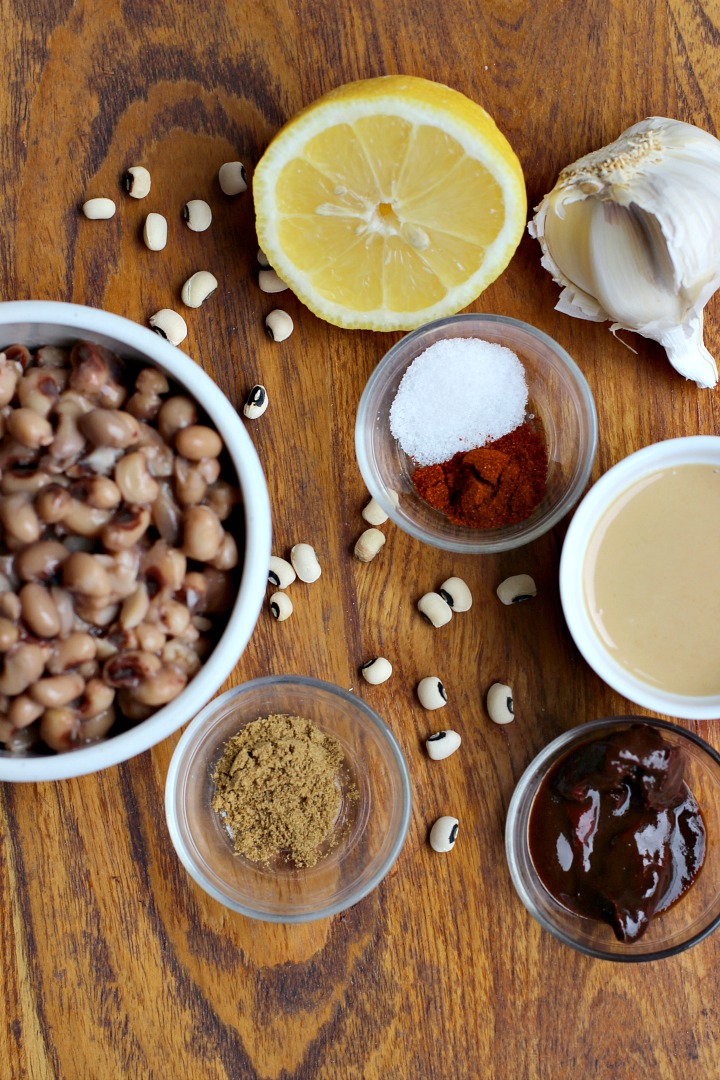 Easy Peasy To make in 15 minutes
Basically, all you need to do is combine all the ingredients together in a food processor with the metal S blade.
Turn it on and process from 2 to 4 minutes until you get the consistency you want.
And THAT'S IT – voilà – delicious homemade hummus!
The smoky and spicy flavor using the chipotle pepper in adobo sauce and the smoked paprika can be adjusted if you prefer a stronger and spicier flavor.
No Food Processor no problem
If you don't have a food processor, this same combination of ingredients can be combined in a blender. Blend until you get the consistency you want and enjoy!
To serve
Serve this dip with corn tortilla chips, cucumber slices or wedges, different color bell pepper sticks, pita bread, crackers, carrot sticks and on and on and on…
Just have a great dipping party!!
Since hummus isn't the prettiest color by itself, a little garnish of color using chopped fresh parsley and smoked paprika goes a long way!
Here is the recipe:
Smoky Spicy Black Eyed Pea Hummus
Easy to make smoky spicy hummus recipe seasoned with chipotle peppers & smoked paprika - ready in just 15 minutes.
Ingredients
1

15 oz. can

black eyed peas

2

Tbsp

fresh lemon juice

1

clove

garlic

1/2

tsp

salt

1/2

tsp

cumin

3

Tbsp

tahini

3

Tbsp

water

1/4

tsp

smoked paprika

(add more to taste if you want a smokier taste)

1/2 to 1

chipotle pepper from a can with adobo sauce,

start with 1/2 and add more if you'd like it spicier
Instructions
Add all the ingredients to a food processor. Process until smooth about 2 -4 minutes depending on preferred consistency. (scrape sides as necessary)

Taste and adjust seasonings if needed.

For spicier hummus, add more chipotle pepper and adobo sauce.
Notes
This recipe makes about 1 1/2 cups of hummus.
Garnish the hummus with fresh chopped parsley and smoked paprika
Nutrition
Serving:
4
servings
|
Calories:
73
kcal
|
Carbohydrates:
4
g
|
Protein:
2
g
|
Fat:
6
g
|
Sodium:
343
mg
|
Potassium:
51
mg
|
Vitamin A:
250
IU
|
Vitamin C:
3.6
mg
|
Calcium:
16
mg
|
Iron:
0.8
mg
Inspired by: Black eyed peas
Other dips and spreads on VK to try
15 Minute Creamy Avocado Cilantro Pesto
and more…
See all the Dips & Spreads here
Did you make this recipe?
Please let me know how this Smoky Spicy Black Eyed Pea Hummus turned out for you or if you would like to try it. A comment and a rating below would be greatly appreciated. I'd love to hear from you!
Thanks friends,