Mangos, papayas, cilantro and jalapeños – oh yay! A "party in your mouth" for sure with this very flavorful Tropical Fruit Salsa Recipe.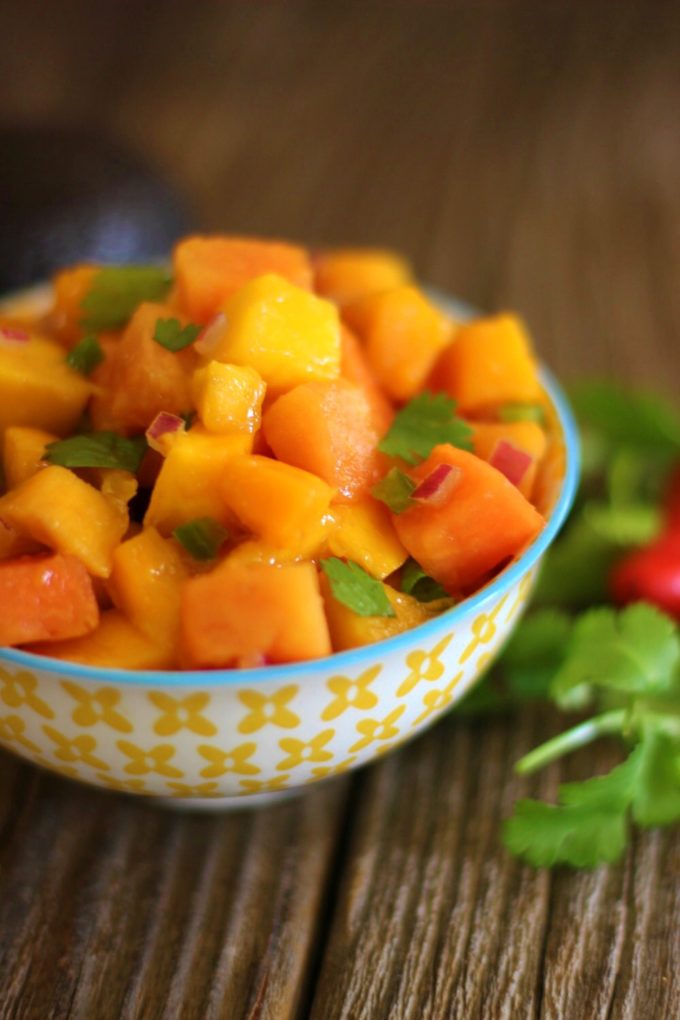 It's no secret that I love mangos. When a mango is perfectly ripe and fragrant, it totally makes my senses soar and gives me happy feelings. How about you – do you love mangos too?
This fresh Tropical Salsa recipe is a combination of mango and papaya – two tropical fruit winners in my book!
How can a salsa using both of those ripe, juicy, flavorful fruits not be good?!
A little background…
When I was younger, I lived near the Mexican border in a little town in New Mexico with dirt streets for about 6 months. This was in the mid 70's (ancient, I know!). When I say near, I mean walking distance to the border crossing.
Many times my husband and I and friends would go through the border crossing into Mexico on foot. This was a perfect time to practice our buenos dias, buenas tardes and buenas noches. The border guards were friendly and would always correct us when we used the wrong one!
One of our favorite things to go over to Mexico for was fresh fruit and an occasional Mexican dinner at the only restaurant in this tiny town.
There was some fruit we were allowed to bring back across the border into the U.S., but mangoes weren't one of them. So, we'd go to the local park and gorge ourselves on sweet, drippy, sticky, heavenly mangoes.
Thus began my love affair with mangoes!
So…the story continues…
I grew up in northern New Hampshire near the Canadian border and I don't recall ever seeing or hearing of mangoes growing up. That may sound crazy and strange but we ate lots of potatoes, turnips, carrots and foods that would store well in the winter. In the summer and fall, blueberries, raspberries and apples were some of the most prolific and available fruits.
Tropical fruits, if available, probably were super old and shriveled up, hanging around in a corner of one of the 2 grocery stores we had in my town.
So, there it is, the story of my youth and the deprivation of tropical fruits, like mango and papaya, that I experienced, lol!
But, at the time, "ignorance was bliss" and I was doing just fine and I was happy. I didn't know any different. You don't know what you don't know.
Anyway, I'm so glad things have changed!
What you need to make this Tropical Fruit Salsa recipe:
fresh mango
fresh papaya
red onion
fresh jalapeño pepper
fresh cilantro
apple cider vinegar
olive oil
salt
This salsa recipe is a very luscious taste sensation! It's so easy to make and comes together quickly – in about 15 minutes! Using it as a topping for tacos, tostadas, taco salad, etc. is such a delicious flavor boost!
Here is the recipe:
Tropical Fruit Salsa
Cubes of juicy ripe mango and papaya along with jalapenos and cilantro are the stars of this very flavorful Tropical Fruit Salsa recipe. A delicious topping for tacos, tostadas, taco salad, etc.
Servings:
4
- 1/2 cup servings
Ingredients
1 1/2

cup

Mango

cubed

1

cup

Papaya

cubed (the larger Mexican papayas have orange flesh which makes a nice contrast, but any papaya will do)

1/4

cup

Red onion

chopped small (or more to taste)

2

Tablespoons

Jalapeno

chopped small (or more to taste)

1/3 - 1/2

cup

Cilantro

chopped (or more to taste)

1

Tablespoon

plus 2 teaspoons Apple Cider Vinegar

1 - 2

teaspoons

Olive oil

pinches

A couple of Salt

Tablespoon

OPTIONAL: 1 red jalapeno or red bell pepper for color

chopped small

OPTIONAL: Ripe avocado cubes
Instructions
Cut your mango and your papaya in cubes

Chop the red onion very small

Chop the jalapeno very small (add more if you want it hotter)

Chop the cilantro

OPTIONAL: add chopped red jalapeno or red bell pepper for color

Gently toss all of the above ingredients together with apple cider vinegar,olive oil and salt

OPTIONAL: Add cubed ripe avocado AT THE END and very GENTLY mix in
Nutrition
Serving:
0.5
cup
|
Calories:
86
kcal
|
Carbohydrates:
15
g
|
Protein:
1
g
|
Fat:
3
g
|
Saturated Fat:
1
g
|
Sodium:
6
mg
|
Potassium:
218
mg
|
Fiber:
2
g
|
Sugar:
12
g
|
Vitamin A:
1310
IU
|
Vitamin C:
54.4
mg
|
Calcium:
14
mg
|
Iron:
0.3
mg
Inspired by: Markus Rothkranz
Other Salsa Recipes on VK
Please let me know if you make this Tropical Fruit Salsa recipe or would like to try it. A comment and a rating below would be greatly appreciated. I'd love to hear from you!
Thanks friends,

Here's How to Cut a Mango