Simple Oil-Free Baba Ganoush – There's something so earthy and "exotic" about cooking with eggplant!
Eggplant is one of my favorite vegetables. It's probably because of Eggplant Parmesan. That dish was my first introduction to eggplant and where I fell in love.
My husband and I used to go to this awesome, one man show, Italian restaurant in Tilton, New Hampshire many moons ago. The owner's name was Sal, short for Salvitore, and he was the real deal – an authentic Italian chef. Back then his restaurant was a tiny place with just a few tables. He didn't serve alcohol there but you could bring your own bottle of wine.
We have fond memories of that place and time and we ate many an Eggplant Parmesan there.
Eggplant is the Star of this Oil-Free Baba Ganoush
Enough said about eggplant parmesan!
Today I'm sharing another favorite eggplant dish thats roots aren't in Italy. Baba Ganoush is of Mediterranean origin being a dish made in the Lebanese, Arabic, Egyptian, Israeli cultures and more – the Mediterranean lands east of Italy.
Simple To Make and Easy to Eat
The longest part of the Baba Ganoush making process is baking the eggplant. But really, that couldn't be much easier to accomplish.
After the eggplant is baked for 50 – 60 minutes, it requires a little cooling, cutting in half lengthwise and then scooping out the insides.
Add it and the rest of the ingredients to a food processor or high speed blender and process until well mixed and a nice smooth consistency. That's it.
Just begin eating at any time after that!
Eat in a Variety of Ways
Baba Ganoush can be eaten many ways. It makes a great spread for sandwiches, toast, bagels, etc. Top it with fresh sliced tomatoes – they're great friends 😉
Veggie sticks just love jumping in and taking a dip – with your help that is.
Yes, I'm saying it makes a great dip for veggie sticks, crackers and also for triangles of pita bread to dredge right through it.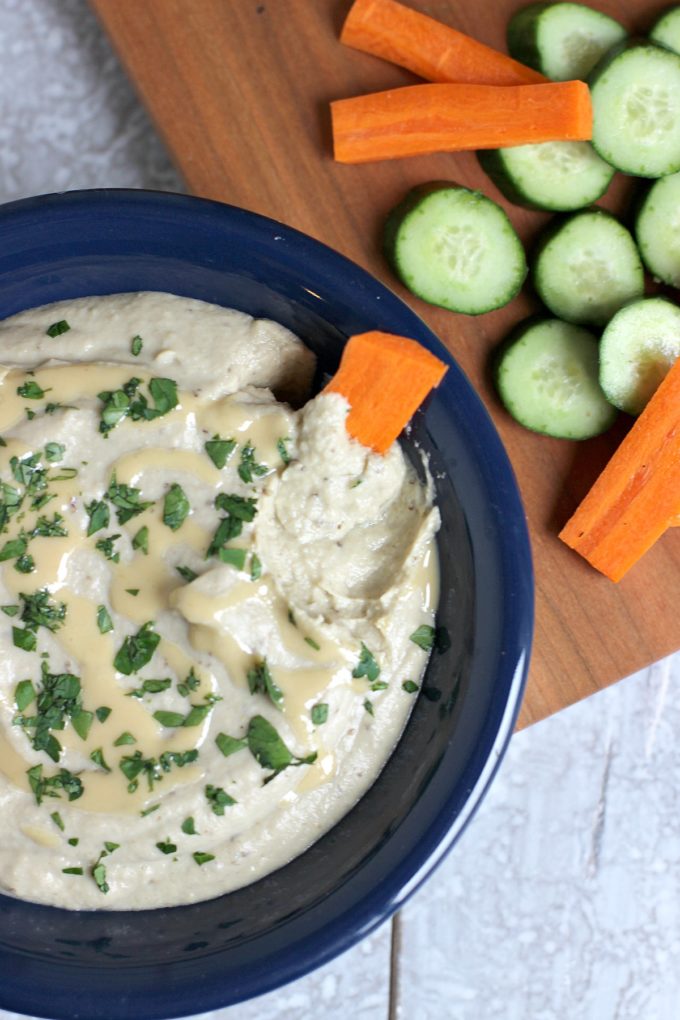 Carrot sticks and cucumber sticks or rounds are great dipping choices. But I'm sure any dipping type veggie like cherry tomatoes, cauliflower and broccoli florets, etc. would be excellent together with dear Baba G as I sometimes affectionately call it.
Here is the recipe:
Simple Oil-Free Baba Ganoush
Ingredients
2

medium

"plump" eggplants

1

tsp

salt, more to taste

4

Tbsp

fresh lemon juice

3 - 4

Tbsp

roasted tahini

2 - 3

pinches

cumin, or more to taste

1 - 2

cloves

garlic

1 - 3

tiny drops

liquid smoke, optional, BUT adds a nice depth of flavor
Instructions
For The Eggplant
Preheat your oven to 425 degrees F

Prepare a baking sheet with parchment paper and pierce your eggplants in multiple places with a fork or sharp pointed knife and place on the baking sheet

Bake for about 50 -60 minutes until they start to shrivel and are very soft when pierced

Remove them from the oven when done and place the baking sheet on a wire cooling rack to let the eggplants cool enough to handle

Cut each eggplant in half lengthwise and scoop out the inside into a bowl
For The Baba Ganoush Dip/Spread
Add the eggplant and the rest of the ingredients to a food processor with the metal S blade or a high speed blender like a Vitamix and process or blend to the desired consistency.
Adapted from: Fat-Free Vegan
I have to warn you that this Baba Ganoush is very easy to over-eat. Just ONE MORE DIP – if you know what I mean!
Thanks for reading!
Cheers,