That combination of sweet and tart and the vibrant color makes this Cranberry Raspberry Compote a delicious and beautiful topping or spread.
You know those fresh cranberries you still have hanging around after the holidays? Well, I'm not sure about you, but I definitely had some! I was thinking about freezing them but decided to try another approach. I had some raspberries in the freezer that really needed to be used too SO the birth of Cranberry Raspberry Compote! Another act of re-purposing you might say…
The rain is coming down in buckets (not literally) here in Northern California! It's a good thing but a little foreign to us drought ridden Californians. THEY say it's because of El Niño – thanks El Niño for the soaking rains!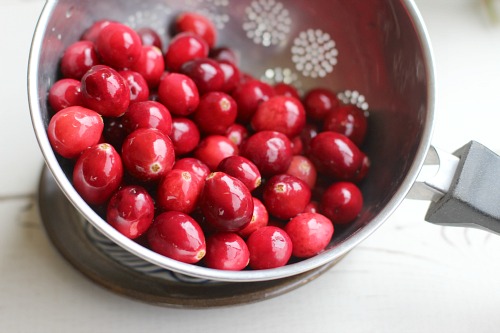 Today was one of those dark, rainy, gloomy days. Making a colorful compote helped to brighten my day though! And it was so good to do something useful with those needy raspberries and cranberries. Now they have turned into something very yummy!
Oh, and another thing, did I mention that it's super simple to make? The whole thing, from cranberries and raspberries to compote takes all of 15 minutes. Perfect little rainy day project with so many uses.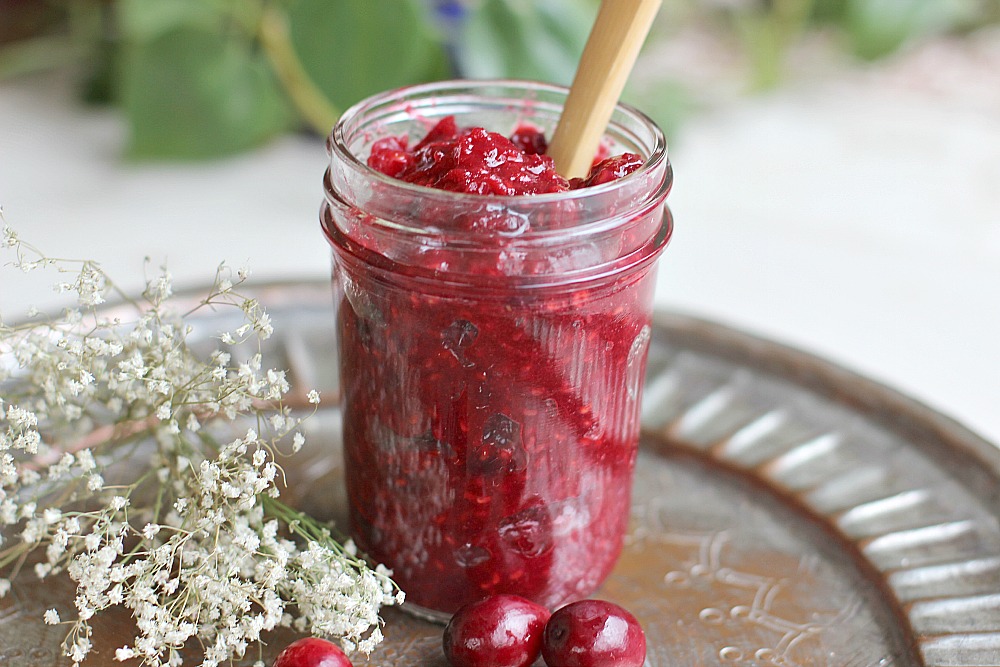 I thought it would be great as a parfait or chia pudding layer, an addition to a smoothie, a topping for pancakes, like these Mashed Potato Pancakes, a spread on toast, a layer in a dessert bar (I think I'm gonna try that one!), etc.
The compote is a nice balance of tart and sweet because cranberries always add that nice tart factor.
Here is the Cranberry Raspberry Compote Recipe:
Cranberry Raspberry Compote
This fruit compote has a tart/sweet taste. It can be used as a pancake topping, a layer in a parfait or chia pudding, a filling for a dessert bar, smoothie ingredient, oatmeal topping and more
Ingredients
2

cups

fresh whole cranberries

1

cup

raspberries

fresh or frozen

2

T

cranberry juice

4

T

organic sugar
Instructions
Place all the above ingredients in a heavy bottom pot on medium heat

After it starts getting hot and bubbly, turn the temperature down a little and continue cooking

While the mixture is cooking, squish the fruit with either a large spoon or a potato masher (It doesn't have to be completely squished)

Continue cooking for about 10 - 15 minutes, stirring regularly until it's thick and juices have been absorbed

Take off heat and let it cool

Put the cooled compote in a jar with a tight fitting lid and refrigerate
Inspired by: Minimalist Baker