Olive Cheese Bread! – you just can't go wrong with olives in almost anything in my book!
I have a confession to make. I really love cooking shows on tv – they're actually some of my favorite programs to watch. Competition shows like Chopped, Cutthroat Kitchen and Cupcake Wars are really fun to watch – to me… I guess I'm just a true foodie through and through!
The other day I was watching The Pioneer Woman, Ree Drummond. She made an Olive Cheese Bread that looked so delicious. Since I'm such an olive lover, I was inspired to put my own twist on it and try to make a vegan appetizer version.
This vegan Olive Cheese Bread would be a perfect appetizer for a New Year's Eve party or any get-together. It's such a colorful and tasty treat with 3 kinds of olives, roasted red peppers, green onions and vegan mozzarella shreds – an olive lover's delight!

I lived with a family a few years ago who hated olives. Before that time, this was a very foreign concept to me. I guess I always thought that everyone loved olives as much as I do. So, I've come to the conclusion that olives must be a love/hate thing!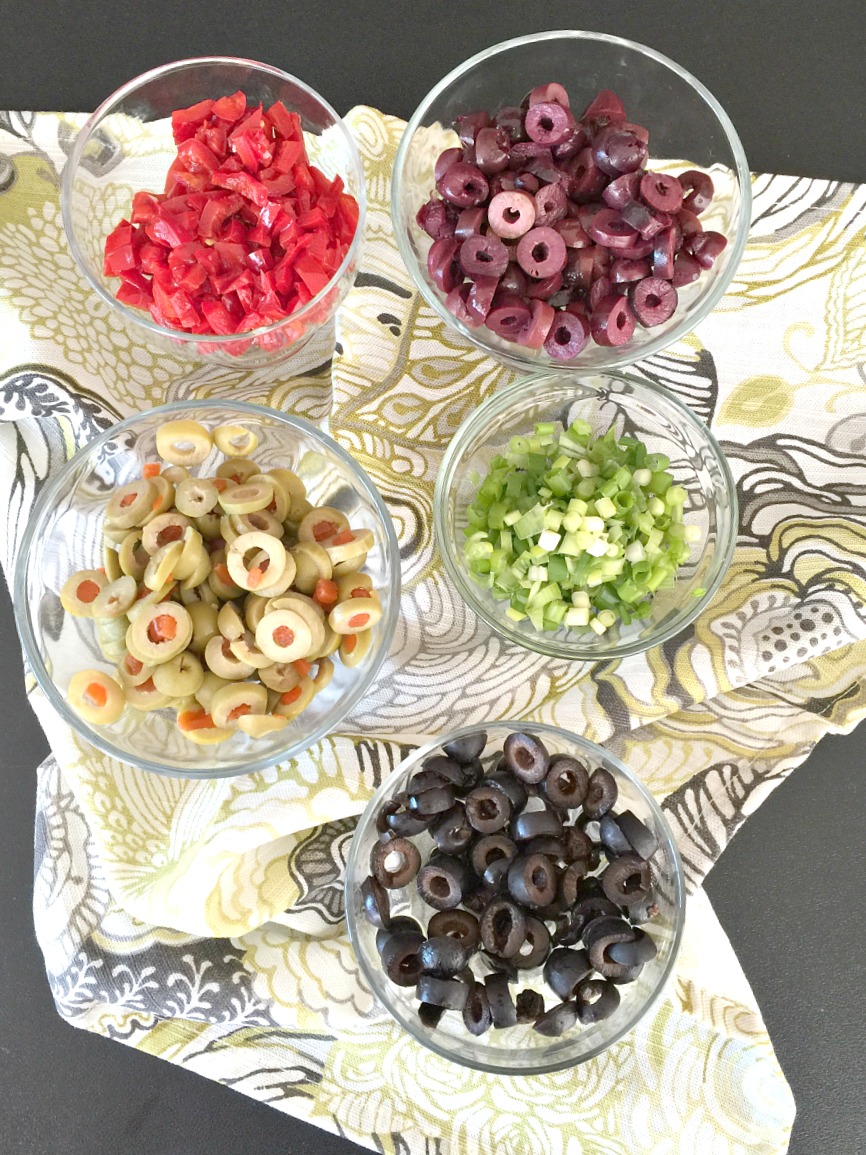 So, this recipe for the vegan version of Olive Cheese Bread is only for olive lovers – but I'm quite sure there are a lot of those and the haters are few and far between!
Olive lovers unite for this yummy treat!!

To Make:
For this appetizer, I used a baguette for the bread. I cut the baguette into some 1/2″ slices and also some pieces cut in 5″ lengths that I cut in half lengthwise. I then spread the olive cheese mixture generously on the pieces of baguette and put them on a baking sheet to bake. After they came out of the oven, I cut the 5″ lengths into smaller appetizer size pieces.
I think a baguette is the perfect appetizer size bread and it also has a great crunch after being in the oven without getting too hard.

*Update* – After making my appetizers I had a little of the spread leftover in the refrigerator and I discovered that it makes a delicious spread for toast and also a great sandwich spread – Yum! Enjoy all my olive loving friends!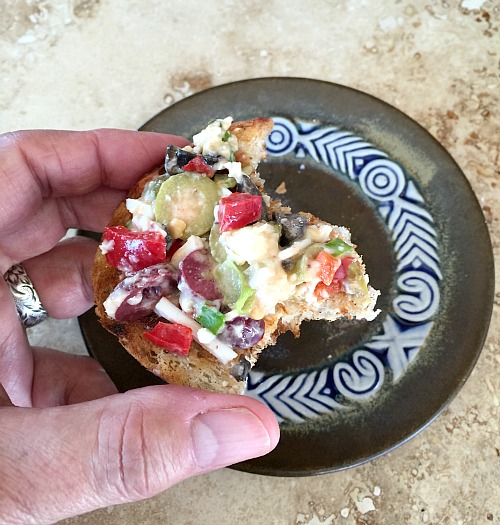 Here is the Recipe:
Olive Cheese Bread
This recipe is great as an appetizer on a baguette and it's also good as a spread on toast or a sandwich spread
Servings:
3
cups of spread
Ingredients
1/4

cup

black olives

sliced

3/4

cup

Kalamata olives

sliced

3/4

cup

green olives with pimento

sliced

2 - 3

green onions

chopped, scallions

1/2

cup

roasted red peppers

1

stick softened vegan butter,

or dairy butter if not vegan

1/2

cup

vegan mayonnaise,

or regular if not vegan

3/4

cup

vegan cheese shreds,

or dairy cheese if not vegan

1/2 - 1

teaspoon

garlic granules

1

Tablespoon

fresh rosemary

chopped fine (Optional)

1

baguette or bread of your choice
Instructions
*Take your butter out to soften ahead of time*

Preheat oven to 325 degrees F

Mix the mayonnaise and the softened butter together in a bowl

Add the olives, roasted red peppers and green onions (scallions)

Add the garlic granules and optional rosemary

Mix all this together well

Cut slices of baguette and also 5" or 6" sections of the baguette cut in half lengthwise

Spread the olive cheese spread generously on the baguette pieces and place on a baking sheet

Bake at 325 degrees F for 15 minutes
Recipe inspired by: The Pioneer Woman