This Tabouli Salad Recipe is a classic version using bulgur wheat and lots of fresh parsley! And it can be made in just 30 minutes or less!
Tabouli also spelled Taboulleh, is a well known and popular Middle Eastern/Mediterranean salad that is bright, fresh and flavorful. It's made with finely chopped vegetables, herbs and bulgur wheat.
It's one of those recipes that can be prepared ahead of time and just gets better as it's chilled in the refrigerator!
[cmtoc_table_of_contents]
Some variations of Tabouli use quinoa, but traditionally, it's made with bulgur. Soaked bulgur is chewy and satisfying and is a perfect choice for a grain/vegetable salad because it doesn't get mushy.
It's high in fiber so it will keep you full longer but isn't heavy.
Is Tabouli Healthy?
Yes it is and it's light, refreshing and has a vibrant taste and colorful eye appeal!
Tabouli is made with a whole lot of fresh parsley! Parsley is a nutritious herb and it's very rich in chlorophyl and vitamin A.
Along with bulgur wheat, which is high in protein, these two stars of this salad are also very high in fiber and the olive oil gives this salad a little dose of healthy fat. Add in some fresh tomatoes, fresh mint, green onions, a little garlic and lemon juice – it's definitely a "good for you" salad!
What's in this Tabouli Salad Recipe?
Bulgur (wheat)
Fresh Parsley
Fresh Mint
Green onions (aka scallions)
Tomatoes
Fresh lemon juice
Olive Oil
Cucumbers (optional)
What is Bulgur?
Bulgur is actually dried cracked wheat and is considered a whole grain. It cooks or prepares very quickly because it's been parboiled in the process of making it. That's why it is used extensively in Middle Eastern recipes because it is nutritious and also quick to make.
It can be used as a substitute for other grains because it has a similar texture, when cooked, to quinoa or couscous. When it's soaked and not cooked, it has a chewy texture that makes it a great choice for salads.
Find more information about bulgur here.
Do I have to cook the bulgur?
Bulgur can be cooked, but in this recipe it is only soaked in boiling water for about 20 minutes. It will have a delicious chewy texture that holds up well in the salad and doesn't get mushy.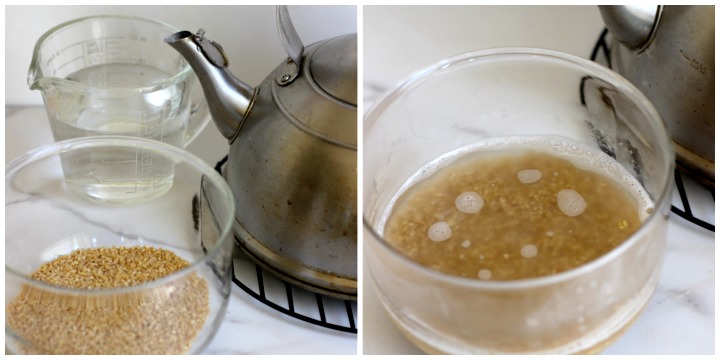 Left: Dry Bulgur and Right: Bulgur soaking in boiling water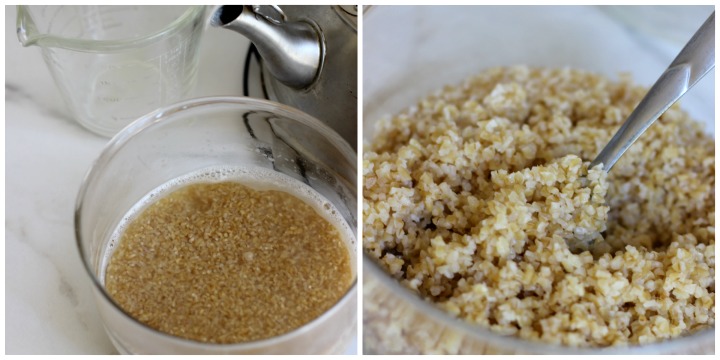 Left: Water almost completely absorbed and Right: Completely soaked bulgur ready for Tabouli.
Is Tabouli Easy to make?
Yes, Tabouli is not only easy to make, but it comes together quickly, in about 30 minutes or less.
Soak the bulgur for about 15 – 20 minutes in boiling water.
While the bulgur is soaking, prepare the vegetables and dressing.
Chop parsley and mint very small, chop green onions, white and green parts, dice fresh tomatoes, and as an optional addition, dice 1 cup cucumber.
In a separate bowl, squeeze fresh lemon juice and combine it with olive oil and pressed garlic and whisk together – this is the dressing.
After the bulgur is soaked, put it in a large bowl and add the ingredients in step 3, along with salt and pepper, and combine.
Pour the lemon juice, olive oil and garlic dressing over the top and stir it all together.
Serve right away or cover and chill to meld flavors even more for about 30 minutes or even overnight.
Quick, Easy and Flavorful
*Important Tip*: Use ripe but firm tomatoes instead of soft ones so there isn't excess juice coming from the tomatoes. Also, once you've chopped your tomatoes, if you'd like you can put them in a colander to drain off any excess juices while you chopping your other ingredients – this is an optional step.
How to serve Tabouli?
Served with some pita bread and hummus or this recipe for baba ganoush.
Top it with any variety of black olives – I especially like Kalamata olives.
If you aren't vegan, feta cheese is a tasty topping or even a dollop of plain yogurt.
As a side dish, Tabouli goes well with falafel or a hummus wrap.
Take some along to a picnic or potluck and watch it disappear! For bringing to a picnic or potluck, it can even be made a day ahead, chilled and ready to go.
Diced cucumbers are an optional addition. The English or the Persian varieties are the best choice since they don't have a lot of seeds. They add a freshness that goes well with the tabouli.
Also, mixing diced cucumbers with plain yogurt is a delicious topping for your tabouli or you can also mix it right into the salad before eating as another option.
Tabouli is great to serve on romaine lettuce leaves too or also in collard wraps!
These are just a few suggestions!
If you try this Tabouli Salad recipe or would like to – a rating and a comment below would be greatly appreciated. Also, please feel free to share any modifications you make – it's always fun to learn about new variations of a recipe. I'd love to hear from you!
Here is the Tabouli Salad recipe:
Tabouli Salad Recipe
Quick, flavorful Tabouli Salad recipe made with fresh herbs, vegetables and bulgur in 30 minutes.
Ingredients
1

cup

dry bulgur wheat

1 ½

cups

boiling water

1

cup

fresh parsley, large stems removed and chopped small,

I used curly leaf parsley

½

cup

green onions (scallions), chopped with green tops

2

Tbsp

fresh mint, chopped small

2

large tomatoes, diced

1

tsp

salt

¼

tsp

black pepper

¼

cup

olive oil

¼

cup

lemon juice, fresh squeezed

1 - 2

garlic cloves, pressed or grated on a microplane

1

cup

cucumber, diced, (optional)

Persian or English variety have less seeds
Instructions
First Step
Before preparing the salad ingredients, cover 1 cup dry bulgur wheat with 1 ½ cups of boiling water. Stir and set aside to soak for 15 - 20 minutes.
Tabouli Salad
While the bulgur is soaking, prepare the vegetables and the dressing.

Chop parsley, mint, green onions (scallions) with green tops, dice tomatoes and peel the garlic.

In a separate bowl, combine the olive oil, the fresh lemon juice and the pressed or grated fresh garlic and whisk together.

After the bulgur is finished soaking, add it to a large bowl and add the parsley, mint, green onions, diced tomatoes, salt and pepper and stir together.

OPTIONAL: 1 cup diced cucumber can be stirred in at this time if using.

Pour in the olive oil, lemon juice and garlic combination and stir all together to combine.

The Tabouli Salad can be eaten right away or covered and stored in the refrigerator to chill.
Notes
Cucumbers, preferably the less seedy varieties, like English or Persian, are an optional addition. Cucumbers are not included in the nutrition calculation.
Flat leaf parsley can be substituted for curly leaf parsley.
Use ripe but firm tomatoes so there are less juices than when using soft ones.
Tabouli Salad can be eaten right away after preparing or can be refrigerated and eaten chilled. It gets better as the flavors have time to meld.
It will stay fresh for 2 days if refrigerated and kept in a container with a tight fitting lid.
Nutrition
Serving:
1
cup
|
Calories:
178
kcal
|
Carbohydrates:
22
g
|
Protein:
4
g
|
Fat:
10
g
|
Saturated Fat:
1
g
|
Sodium:
404
mg
|
Potassium:
288
mg
|
Fiber:
5
g
|
Sugar:
2
g
|
Vitamin A:
1290
IU
|
Vitamin C:
25.1
mg
|
Calcium:
37
mg
|
Iron:
1.5
mg
*Please note that the nutrition information provided is just a close estimate using an online nutrition calculator.*
More Salads to try
Colorful Quinoa Salad with Feta
Thanks for stopping by!