Salads prepared ahead in Mason jars like this Waldorf Salad Jar are a great way to get a fresh salad at home or grab-and-go!
WALDORF SALAD IN A JAR
Do you do any meal preps ahead for the week? I love to use mason jars for making meals ahead. The mason jars are perfect because they are made of glass with tight fitting lids, are washable and re-useable and they are so pretty to see on your refrigerator shelf!
It's great how these salads keep so well for a few days in the fridge. The trick is to layer them properly. Always make sure that you put the wettest things on the bottom, like the dressing, and layer up to what needs to be kept dry, like the greens, on the top.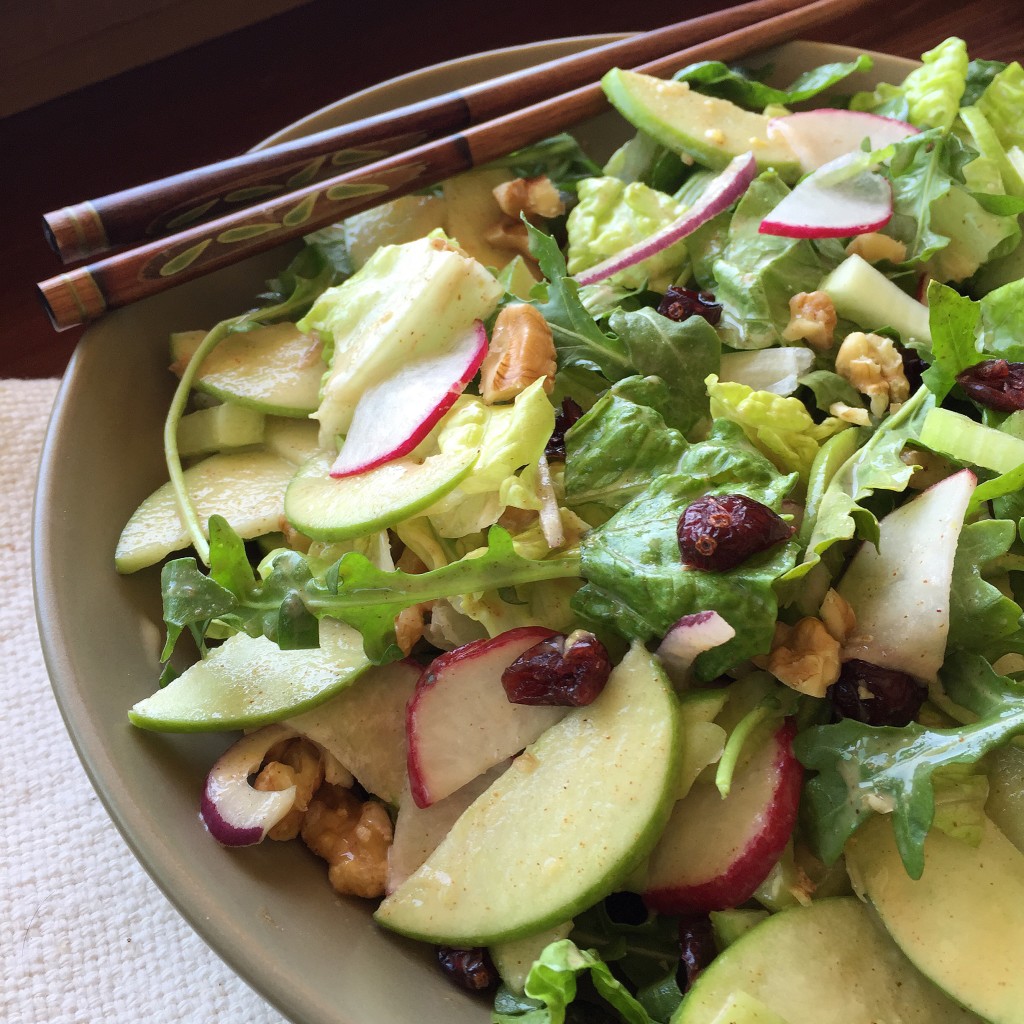 Layered salads in mason jars aren't made for eating right out of the jar itself. It's necessary to pour the salad out into a bowl or plate and mix all the ingredients together.

I know that setting aside time for meal preps for the week ahead can be difficult. If you can find the time, though, it's a time saver on the other end!
How great does it feel to be able to grab a mason jar out of your fridge and have your lunch to go or even to eat at home all ready – and a healthy one at that
And Don't Forget:
If you end up taking a Mason jar salad to go, make sure to bring along a bowl or plate and some eating utensils. Also, after you take off the lid of the jar, set aside the lemon wedges and then pour out your salad into your bowl or plate and mix all the ingredients together well and top with the juice of a couple lemon wedges. ENJOY!
Here is the recipe:
Waldorf Salad Jar
This recipe will keep nicely in the fridge for about 3 days and is a great and healthy salad to have ready to go (don't forget a plate or bowl and utensils!) or just to stay at home and eat.
Servings:
1
large or 2 side salads
Ingredients
3

cups

mixed romaine lettuce hearts and baby arugula

1

in

Granny Smith apple

thinly sliced and soaked for a minute salt water and drained

1

large radish

thinly sliced

2-3

T

celery

chopped

2-3

T

walnut pieces

1

slice

red onion

thinly sliced

2

T

dried cranberries (or dried cherries

dried blueberries or dried strawberries)

2

lemon wedges
Dressing
3

T

roasted almond butter

2

T

unseasoned brown rice vinegar

1/8

tsp

salt

1 -2

T

agave or maple syrup

2 - 3

tsp

Dijon mustard

1/2

tsp

fine lemon zest

1

T

fresh lemon juice

2

T

water
Instructions
Prepare all of you salad ingredients and place in separate bowls

Put all your dressing ingredients together in a bowl and whisk together or use an immersion blender - dressing yields about 1/3 cup

In a 1 quart wide-mouthed Mason jar, add your dressing first to the jar

Next add your sliced apples

Then the sliced radishes

Followed by the sliced red onion

Then the walnuts

Followed by the dried cranberries

And finally topped with the greens mixture and a couple lemon wedges