Such a healthy and versatile ingredient, quinoa, makes a perfect base for this delicious Quinoa Salad.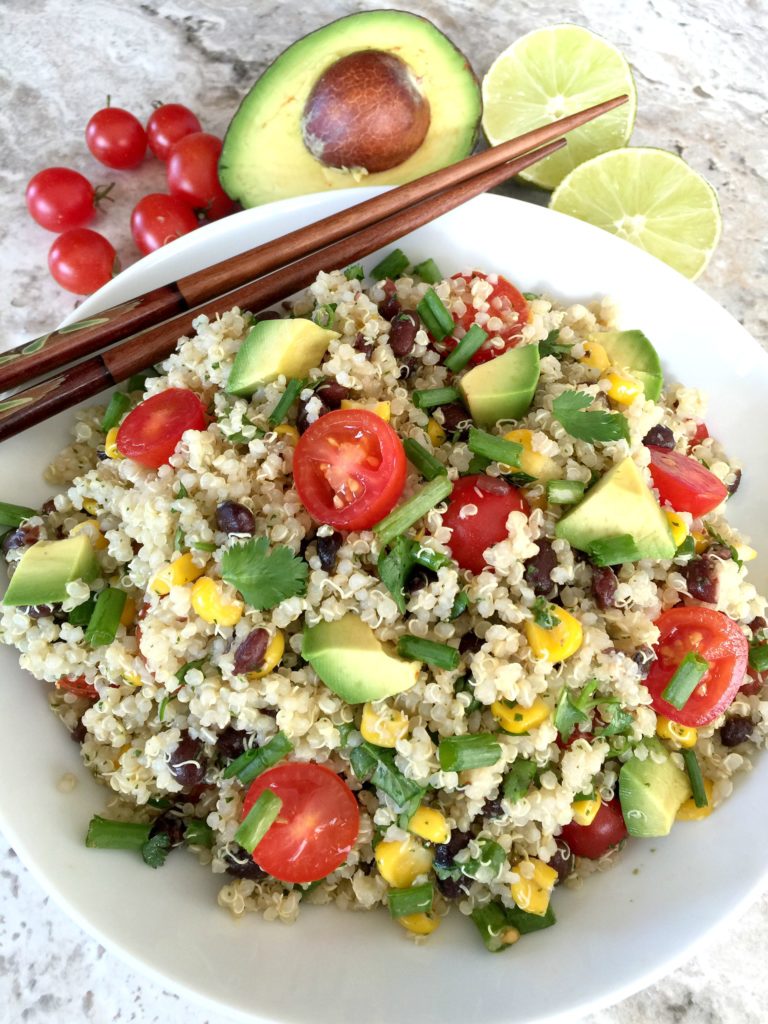 Quinoa Salad
Quinoa Salad
So, who doesn't love quinoa? Isn't it just the best! I've been eating quinoa for a long time – actually since it was first introduced in this country in the '80's – I guess you could say "back in the day". As far as I can remember, I liked it immediately and it became a favorite food then and it's still a favorite. But I remember that when some of my friends first tried it, they thought it was gross. Can you believe it? It takes time for some people to change their taste buds and accept new tastes and textures, I guess. But these days, liking quinoa doesn't seem to be a problem with most people anymore.
Back in the 80's, quinoa was introduced as the "Mother Grain of the Incas". I still have a copy of an article from back then, tucked away in a folder somewhere – I'm like that, ya know! I was so fascinated with this "super food" of an entire people and actually I still am.

Like many of you probably already know, quinoa isn't an actual grain but it's a seed that's cooked and eaten like a grain and it's high in protein and low in gluten. Because it's lighter than many grains and has a delicate nutty flavor, it's become a staple in my family's diet, how about yours?

So Versatile
I make quinoa almost every week and especially love it as quinoa salad. But, I've actually eaten quinoa many times for breakfast, lunch and dinner because it's so versatile and can be prepared in so many ways. It doesn't take long to cook, like some other grains do, so it's perfect for when you're in a hurry but want to eat something yummy and nutritious.
Whether you cook it on the stove top or in a rice cooker (like I do!), it takes less than 1/2 hour until it's fully cooked. It's also great to make a big batch ahead of time to keep in the fridge all week – then that makes it super simple to have it ready whenever you want it.

Here is the recipe for Quinoa Salad:
Quinoa Salad
This recipe yields approximately 4 cups. It's perfect for lunch or dinner and a great portable meal to take with you on the go.
Servings:
4
- 1 cup servings
Ingredients
2 1/2

cups

cooked quinoa

1/2

cup

black beans

rinsed

1/2

cup

steamed frozen or fresh corn kernals

12

in

cherry tomatoes

cut half

2-3

Tablespoons

scallions

1/2

avocado

cubed

1/8

teaspoon

onion granules

1/8

teaspoon

garlic granules

salt to taste
Dressing
2

Tablespoons

olive oil

4

Tablespoons

fresh lime juice

1-2

Tablespoons

fresh cilantro

chopped

1

clove

minced garlic or 4 mashed roasted garlic cloves

1/4

teaspoon

salt

Blend all the dressing ingredients together
Instructions
Combine the quinoa, black beans, corn, scallions in a bowl

Add the onion granules, garlic granules and salt - stir together

Add the dressing and combine

Stir in the cherry tomatoes and the avocado cubes gently

Top with extra chopped cilantro and scallions (optional)
I hope you enjoy this recipe. I sure did -I could've eaten the whole batch myself!