This combination of chocolate and peppermint in these Chocolate Peppermint Cupcakes just screams Holiday!
It's Almost Christmas!
I've been inspired by different holiday desserts I've seen recently. Because, of course, 'tis the season! I always appreciate the beautiful creations that people share. It's awesome how creative people are isn't it? So it's time for some Chocolate Peppermint Cupcakes!
Well, I've made these vegan chocolate cupcakes many times and they are so simple but so good that I wanted to share them with you. I've added an ingredient that I don't usually add and that is a little peppermint extract. The peppermint extract is optional and vanilla can be substituted instead if you prefer. But, the combination of chocolate and peppermint is so yummy and so Christmasy!
This recipe for vegan chocolate peppermint cupcakes is a good one if you need a little something to take with you to a holiday party or gathering. It comes together really quickly and the cupcakes are light and moist. With the simple peppermint infused coconut cream frosting and a topping of crushed peppermint candies or candy canes or fresh peppermint leaves, it's very festive!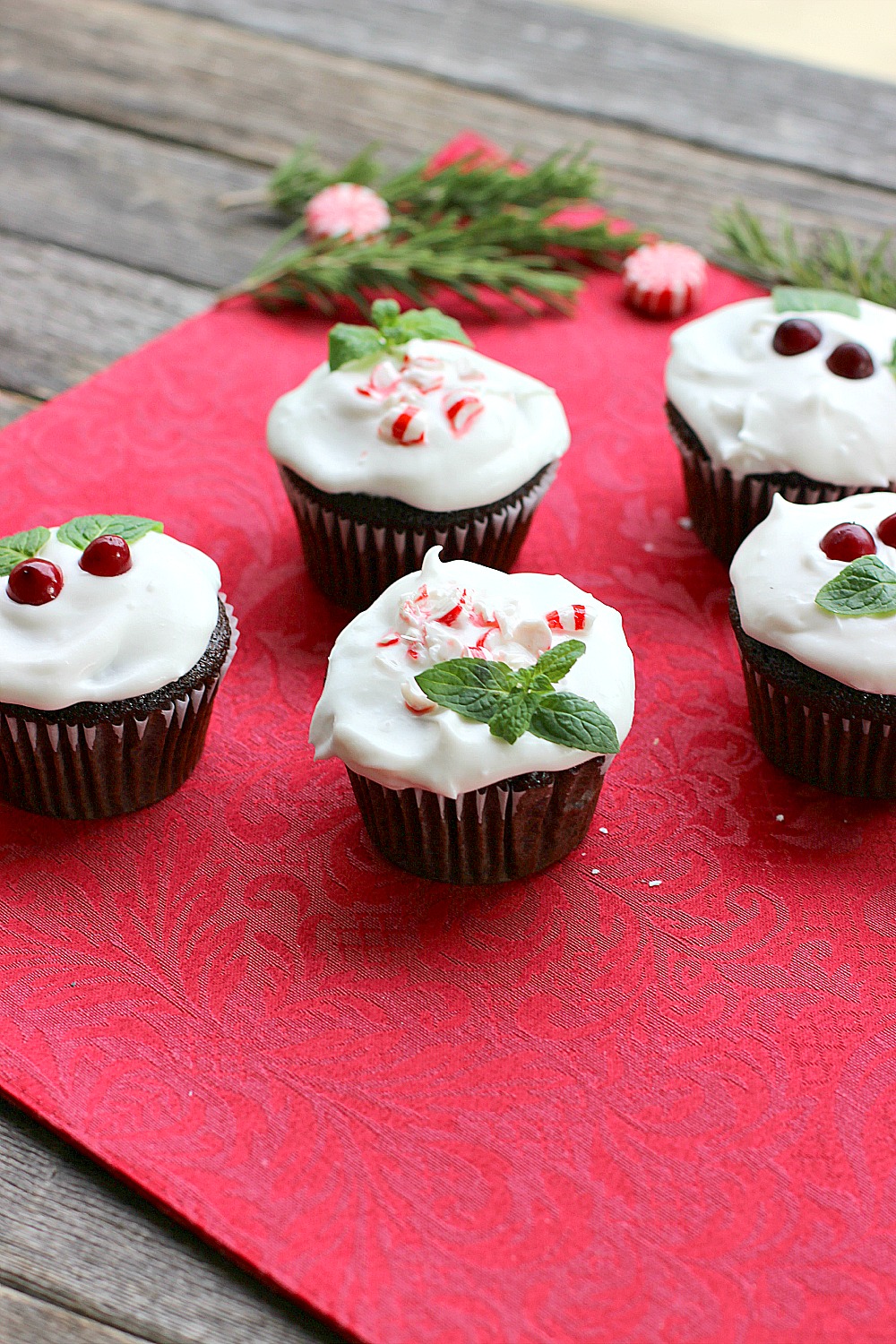 I baked my cupcakes a day ahead of frosting them. I left them at room temperature overnight in a sealed container and it seemed to do them good. Not that using them right away after they're baked and cooled isn't good by any means! But somehow it seemed that they were moister the next day – I don't think it was my imagination!
Coconut cream as a frosting will start becoming very soft and runny if not kept refrigerated. So it's best to keep your cupcakes in the refrigerator until you're ready to serve them.
I actually put mine in the freezer for a few hours and they were perfect for serving – my husband ate three at one sitting! The cupcakes weren't frozen and the frosting was just right.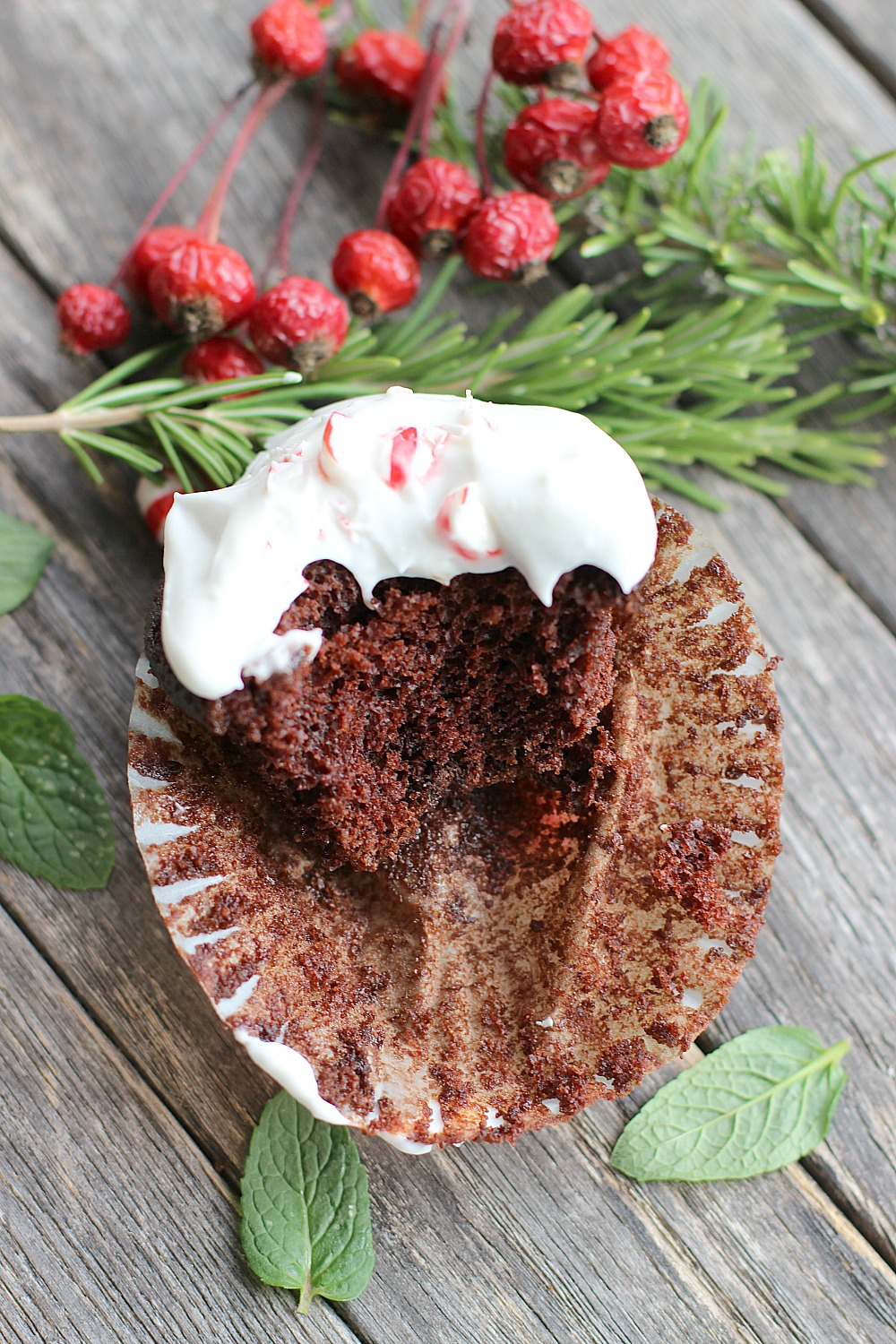 As a little tip, I think it may be a good idea to take the cupcakes and the frosting separately if you end up transporting them somewhere – unless, of course, it's very close by and they're kept cold.
After you make the frosting, you can keep it in the refrigerator and grab it just before you leave the house so it will be well chilled. Also, it will be much easier to transport them this way and they frost up really quickly. Bring a small bag of the crushed peppermint candies or candy canes so it will be easy to sprinkle some on top after frosting.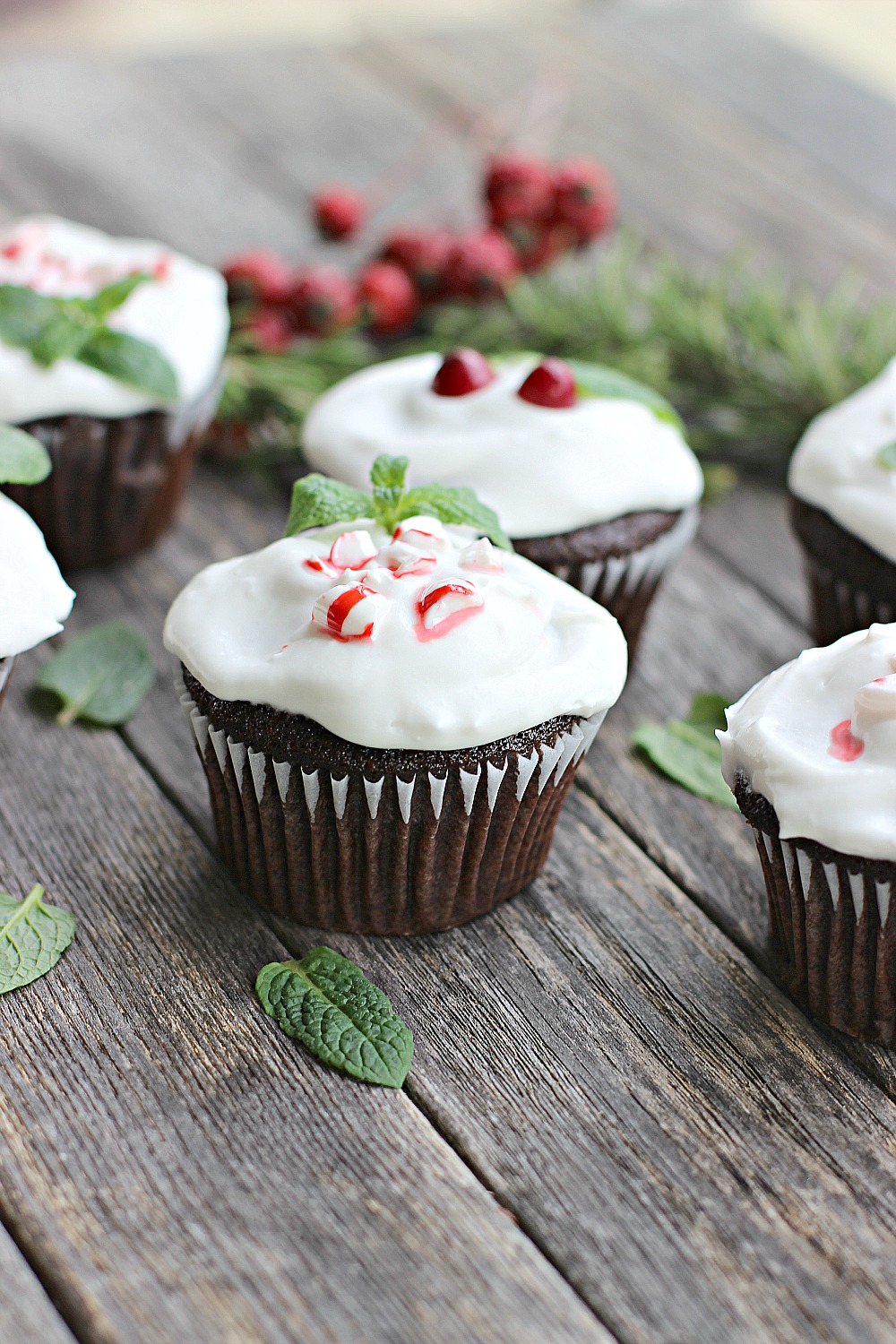 I hope you enjoy this simple cupcake recipe and I want to wish you all a Merry Christmas!
Happy Holidays Debra xo

Here is the Recipe for Chocolate Peppermint Cupcakes:
Chocolate Peppermint Cupcakes
These vegan Chocolate Peppermint Cupcakes come together quickly and make simple but delicious festive cupcakes to serve at or bring to any holiday gathering
Servings:
12
Makes 1 dozen
Ingredients
3/4

cup

whole wheat pastry flour

1/2

cup

all-purpose flour

1/4

cup

unsweetened cocoa powder

1

cup

sugar

1

teaspoon

baking soda

1/2

teaspoon

salt

1/3

cup

oil

1/4 - 1/2

teaspoon

peppermint extract OR 1/2- 1 teaspoon vanilla extract

1

cup

warm water

1

teaspoon

apple cider vinegar or white vinegar

***For the Frosting***

1

cup

coconut cream

1/2

cup

powdered sugar

1/2

teaspoon

peppermint extract OR 1 teaspoon vanilla
Instructions
Preheat oven to 350 degrees F

Sift together the first 6 ingredients

Combine the oil and peppermint extract in a separate bowl

Stir the wet into the dry mixture and mix well

Add the warm water and vinegar and stir in well

Line muffin tins with muffin papers or oil your muffin tins if not using papers

Fill each space about 3/4 full with batter

Bake at 350 degrees F for 20 minutes

Check by inserting a toothpick in the center and if it comes out clean, they're done

Remove from the oven and cool for 5 minutes in the muffin tins

Remove each cupcake and continue cooling on wire racks

Frost after completely cool

Garnish with crushed peppermint candies or candy canes or fresh peppermint leaves and a cranberry cut in half with red side up

Store in the refrigerator in an airtight container with a tight fitting lid.
For the Frosting
Beat the coconut cream, powdered sugar and the extract together with an electric mixer until well combined and creamy. Keep this in the refrigerator to chill until needed.

It's best to frost the cupcakes when you need them so the frosting doesn't get runny. After they're frosted, keep them in the refrigerator until ready to serve.
Recipe inspired by: minimalistbaker.com