This Vegetarian Potato Soup is an easy and delicious soup made with just a few everyday ingredients. It's filling and satisfies that craving for a cozy, simple, rich and warming meal.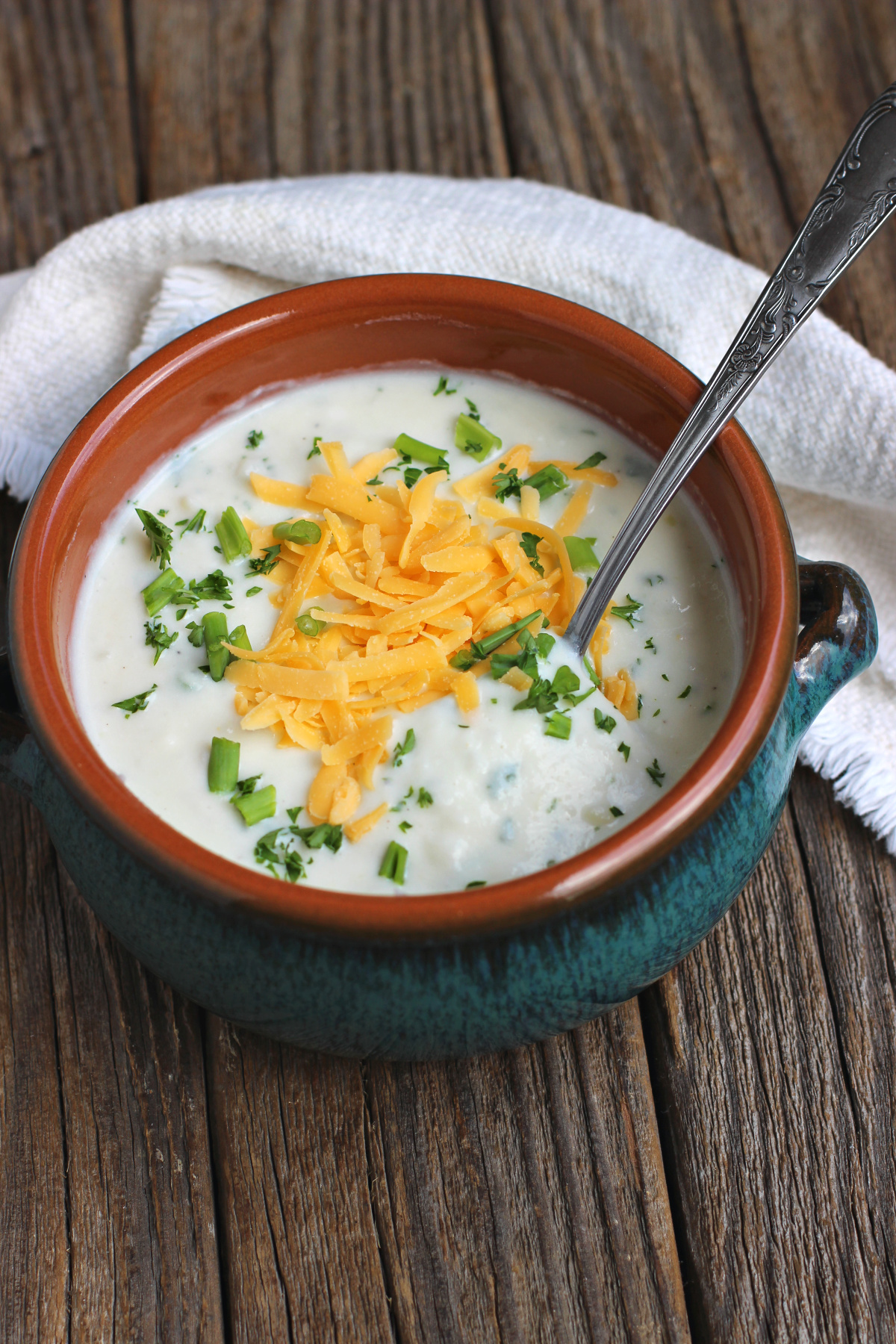 Especially in these times, comfort food fits the bill and this vegetarian potato soup doesn't disappoint on that count because it's
rich and hearty
warming
comforting
easy to make
delicious
made with everyday ingredients
You'll need:
russet potatoes
celery
onions
garlic
bay leaf – 2
half and half or whole milk
butter
parsley
salt & pepper
sharp cheddar cheese from a block of cheese for topping
chopped green onions for garnish (optional)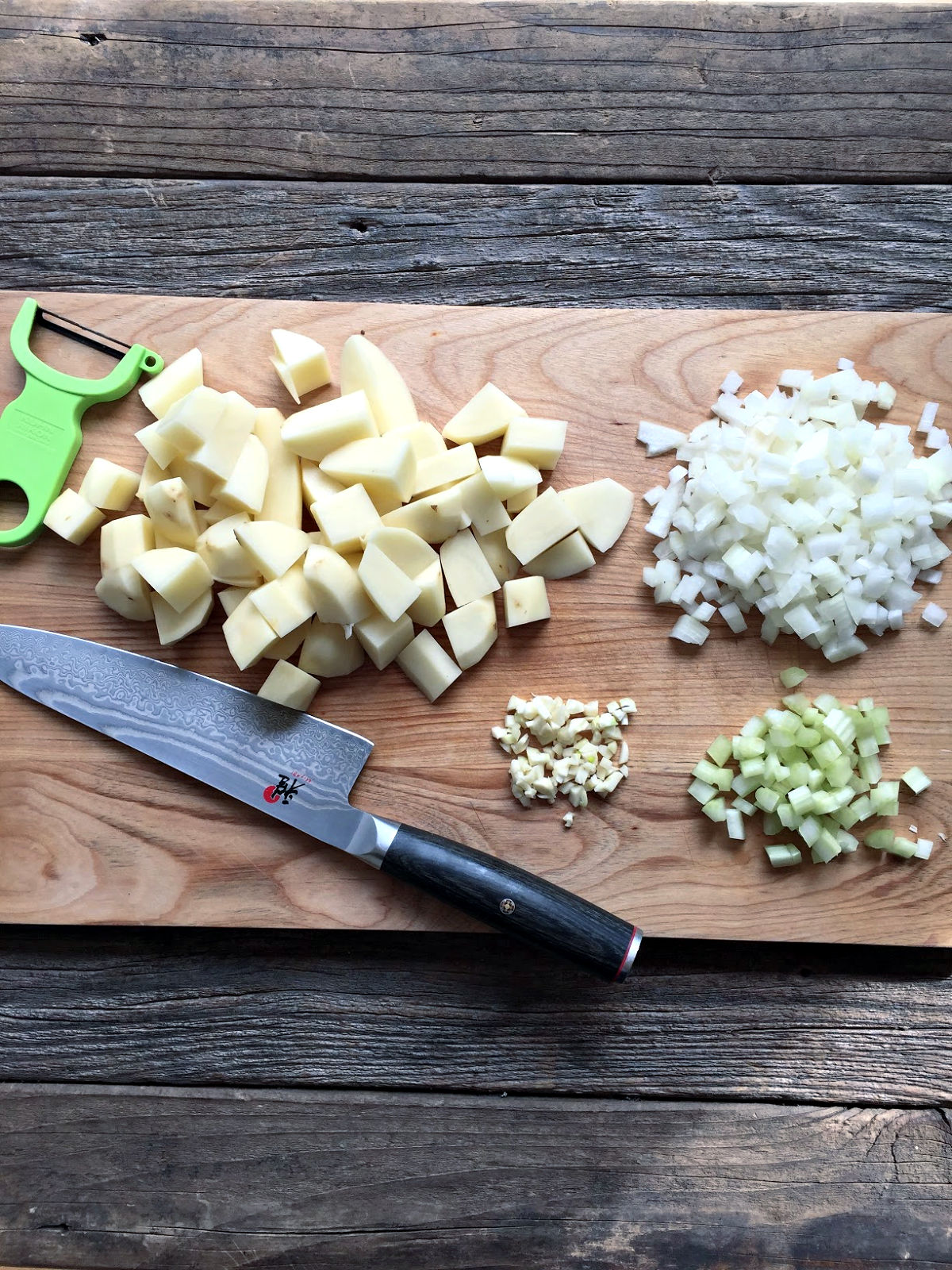 How to make:
1: Peel around 4 pounds of russet potatoes and cut them into approximately 1″ chunks.
2: Chop celery and onions and peel and mince garlic.
3: Add the potatoes, the celery, onions and garlic to a heavy bottom soup pot or Dutch oven. Pour in the water, add the salt and 2 bay leaves.
4: Bring to a boil, then turn down the heat to a high simmer and cook until the potatoes are done. *Check them with a fork or pointed knife and if they're soft and starting to fall apart, they're done.* Remove the bay leaves from the pot and throw them away.
5: Add chopped parsley, slightly warmed half & half or whole milk, butter and black pepper to the pot and stir everything together well.
6: Remove 4 cups of the cooked potatoes without the liquid. Add these potatoes to a food processor along with 1 cup of milk that you've warmed. Pulse until there are no longer big chunks and then process briefly so it's somewhat smooth but not totally smooth. Be careful not to over process to avoid any possibility of a gummy consistency. Add this back into the soup pot and mix together well.
7: Ladle the soup into bowls and top each portion with grated sharp cheddar from a block of cheese.
8: Garnish each bowl with optional chopped parsley and chopped green onions.
9: Serve and enjoy!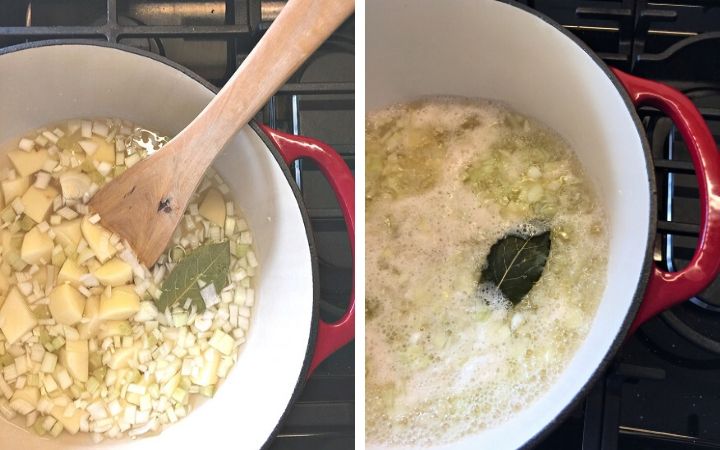 The best potatoes for this soup
Russets, also called Idaho potatoes, and also Yukon Golds are considered all-purpose potatoes. They are both starchier potatoes and don't tend to get gluey when blended in a soup like this.
Other varieties, like red potatoes, are waxier and hold their shape better when cooked, but for this purpose they're not the best choice.
It doesn't matter if the potatoes fall apart a little when cooked since some of the soup will be blended. Also the starch content of Russets and Yukon Golds will help to thicken this vegetarian potato soup.
Why use cheese from a block?
Pre-grated or shredded cheese from a package has additives like cellulose to prevent the cheese from sticking together and clumping. Using cheese directly from a block doesn't contain additives like this and will be much more creamy and delicious.
If you don't have a food processor
You can use a blender for the 4 cups of the potatoes that you remove from the pot. But you have to be very careful not to over process.
If you're using a high speed blender, like a Vitamix, it may be best to start out with pulsing the potatoes with the added milk to break down the chunks and then a very quick blend. The potatoes don't need to be silky smooth just a bit creamy with no large chunks. They are just adding some thickness and texture to the soup. Stir this blended mixture back into the soup pot.
Hand-held electric beaters can also be used to blend the 4 cups of potatoes with the milk.
Also another option: No food processor, blender or electric hand-held beaters? You can still make this soup by removing the 4 cups potatoes from the pot onto a cookie sheet or flat bottom pan. Use a potato masher or even a fork to mash the potatoes very well so they no longer are chunky and are quite smooth. Add them to a bowl and stir in the milk to make a creamy mixture and then add that back into the soup pot and mix all together to combine.

How long does the soup keep?
This soup should keep for about 5 days refrigerated. Be sure to cool it completely and store it in an air-tight container.
You can re-heat it in a pot on the stove top but since it's a thick soup, you may need to add a bit more liquid when heating it. Some milk or a little broth would be ideal. Also, be sure to stir it and watch it carefully so it doesn't burn.
If you care to freeze some of the soup, make sure it's in a freezer safe container with a tight fitting lid or portioned in zip top freezer bags. It should last for about 3 months.
To use, just remove from the freezer and put in the refrigerator overnight to thaw.
A little tip
Always mark your container or freezer bags with the name of the soup and the date when storing your it in the refrigerator or the freezer.
If you're anything like me, you may think you'll remember when you refrigerated or froze your soup. My experience has been that it's very easy to forget. So I think it's a wise practice just in case!
Want more vegetarian soup recipes?
Creamy Hungarian Mushroom Soup

Let me know in the comments below how you like it – I'd love to hear from you!
Also it would be great if you would leave a star rating for this recipe. Thanks friends!
Hope to see you here soon!


Creamy Vegetarian Potato Soup
Easy to make, comforting and delicious soup using everyday ingredients.
Servings:
4
- 2 cup servings
Ingredients
4

lbs

potatoes, peeled and cut into 1" cubes

1/2

cup

celery, chopped small

1 1/2

cups

onions, chopped small

3

cloves

garlic, minced

1 1/2

Tbsp

salt

5

cups

water

2

bay leaf

2 1/2

Tbsp

fresh chopped parsley

3

cups

half & half or whole milk,

set aside 1 cup

1/2

stick

butter

1/4

tsp

black pepper

grated sharp cheddar cheese for topping (optional)

chopped parsley and chopped green onions for garnish (optional)
Instructions
Peel 4 pounds of potatoes and cut into small cubes, approximately 1"

Dice the onions and celery (chop small)

Mince the garlic (chop finely)

Add the potatoes, the onions, celery and garlic to a heavy bottom soup pot or a Dutch oven

Stir in 5 cups of water and 1 ½ Tablespoons of salt and the bay leaves

Bring the pot to a boil and cook on medium high until the potatoes are cooked. Check them with a fork. If they fall apart when pierced, they are done.

To the pot add the fresh chopped parsley, 2 cups of the half and half or milk, the butter and black pepper and stir all together.

When this is all mixed together, remove 4 cups of the potatoes with a slotted spoon or "spider" without any of the broth.

Add the potatoes and the reserved 1 cup of half and half or milk and process until there are no large chunks remaining and the mixture is quite smooth. But do not over process to avoid any possibly of a gluey texture. This does not have to be silky smooth.

Stir this blended mixture back into the pot.

Ladle portions into bowls and top with shredded sharp cheddar cheese. (optional)

Garnish with chopped parsley and green onions. (optional)
Notes
Best potatoes to use for this soup are russets because they have a high starch content and will become more fluffy and also help to thicken the soup. They don't need to perfectly hold their shape in this soup.
Yukon gold potatoes are also considered an all-purpose potato with a higher starch content that can be substituted in this recipe.
Half & half or whole milk is recommended because it will yield a creamier soup but any milk will work with a little less rich result.
To make this soup VEGAN, substitute soy milk for the dairy milk and substitute vegan butter for the dairy butter. The result will not be quite as rich and creamy but still delicious.
When blending or processing the 4 cups of potatoes with the milk, be careful not to over process and produce a gluey outcome! This mixture does not have to be silky smooth but instead just somewhat smooth to help thicken and without large chunks of potato. A blender or hand-held electric beaters and even a fork or potato masher can be used instead of a food processor for this step.
This soup will keep about 5 days in the refrigerator in a container with a tight fitting lid. To reheat, add a little milk, broth or water to thin it out just a little, stir as it heats to your desired temperature.
This potato soup can be frozen in zip top freezer bags or containers with tight fitting lids for about 3 months. Don't forget to add the name and mark the date on the bag or container so you won't forget how long it's been in the freezer.
Nutrition
Serving:
2
cups
|
Calories:
602
kcal
|
Carbohydrates:
98
g
|
Protein:
17
g
|
Fat:
18
g
|
Saturated Fat:
11
g
|
Cholesterol:
49
mg
|
Sodium:
2848
mg
|
Potassium:
2276
mg
|
Fiber:
7
g
|
Sugar:
15
g
|
Vitamin A:
917
IU
|
Vitamin C:
35
mg
|
Calcium:
305
mg
|
Iron:
4
mg