Rosemary grows prolifically here in California and it's such a fragrant and delicious herb to enhance many dishes like this Rosemary Cashew Hummus.
You know when you see some food in a grocery store and you think "I want to try to make this" or the combination of ingredients inspires you? I'm like that a lot.
Sometimes I just "wander" around a store checking out different foods to get ideas. Just so you know, I've driven my kids crazy with this. The oldest 3 took turns over the years to food shop with me when I was heading up a large community kitchen. I hear stories from them that they have these nightmare about shopping with mom – Lol! What can I say? I was just trying to be inspired and creative. Little kids don't see it that way though!
Recently a friend posted some Sabra hummus varieties on Snapchat that she got. I think she's a rep for them. Anyway, there was one that was new to me and it was a rosemary hummus. So, a couple things, 1) I have a huge rosemary plant in my garden 2) I love rosemary 3) I really like hummus 4) I especially like cashew hummus. So, there you have it, my reasoning for making this recipe.
There are a couple other ingredients that I really like too – roasted garlic and sun-dried tomatoes. So does this idea all go together?? I'm happy to say YESSS!! So yummy.
When I was thinking about making Rosemary Cashew Hummus, I knew it would be weird to put pieces of chopped up fresh rosemary in the hummus. I then had a brainstorm – yes for me, this was a brainstorm!
Since I put a little olive oil in the hummus recipe, why not make it rosemary infused olive oil? Guys, this is so easy to do and so delicious. I made just a 1/2 cup to try it and it came out really good.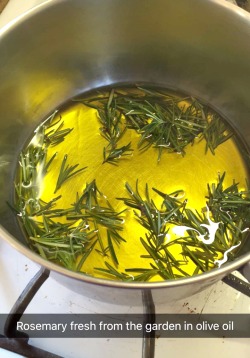 To make this rosemary infused olive oil, I stripped fresh rosemary leaves off the stem. I used around 1/8 cup or a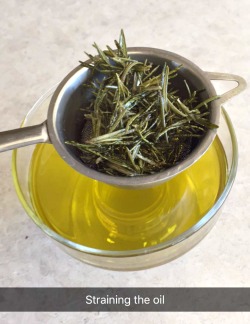 little over 1/2 of a 1/4 cup. I put the rosemary in a small heavy bottom pot and then poured 1/2 cup olive oil over it. I then turned the burner on to the lowest setting and let the oil and rosemary heat together for about 8 minutes or so. DON'T BOIL! Then I turned off the burner and put the pot on a cooling rack. When the oil was cooled, I strained it through a fine tea strainer and voila! – rosemary infused olive oil.
You have to do a couple things before you make this Rosemary Cashew Hummus. You have to soak your cashews in water overnight and also make the rosemary oil – neither of which take a long time. Oh ya, you have to roast a bulb of garlic in the oven too…heavenly!
So, the recipe does require a little forethought but forethought is good right?
Here is the recipe for Rosemary Cashew Hummus:
Rosemary Cashew Hummus
Ingredients
1

cup

cashews

soaked in water overnight

1/8

cup

heaping fresh rosemary leaves

de-stemmed

1/2

cup

olive oil

1/3

cup

fresh lemon juice

1/4

cup

tahini plus 1 Tablespoon

1/2

teaspoon

salt

1

bulb garlic

oven roasted

3

Tablespoons

rosemary infused olive oil

1

Tablespoons

or 2 water

4

Tablespoons

sun-dried tomatoes

cut in small pieces
Instructions
Roast your bulb of garlic at 400 degrees F for about 40 minutes

Prepare your rosemary infused olive oil

While it's cooling get together your other ingredients: the tahini, lemon juice, cashews, salt

In a high powered blender like a Vitamix or Blendtec, put all the ingredients EXCEPT the sun-dried tomaotes and the water

Blend until smooth, you'll need the tamper on the Vitamix to press and stir

Add a Tablespoon or 2 of water as it's blending to come to your preferred consistency

Remove from the blender when smooth and creamy

Stir in the sun-dried tomatoes

Serve with crackers, veggie sticks, etc.

ENJOY!
Inspired by: Sabra Hummus