These will be your go-to toppings for so many meals when you learn how to make Oven Roasted Cherry Tomatoes.
If you're anything like me, you probably don't always finish a container of cherry tomatoes before some of them are shriveled. I never want to throw them away, so I like to turn the shriveled ones into oven roasted cherry tomatoes.
By seasoning and roasting them, it brings these tomatoes to another level of deliciousness and usefulness. And I love not wasting food – are you with me on this?
How To Oven Roast Cherry Tomatoes
The first step to oven roast cherry tomatoes is cutting them in half, width-wise like in the picture.
After they're all cut, put them all together in a bowl.
Season the tomatoes with salt, pepper, onion and garlic granules and basil and oregano. Toss together to spread the seasonings evenly.
Drizzle with a little olive oil and toss again.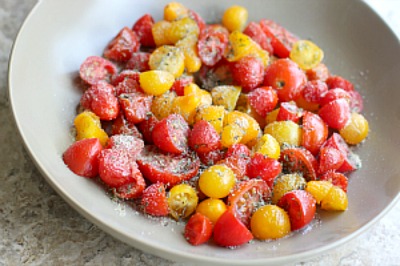 This is how I season mine, but whatever combination of seasonings sounds good to you – go for it!
Seasoning these tomatoes is definitely open to personal preference since they're such a versatile topping to enhance a meal.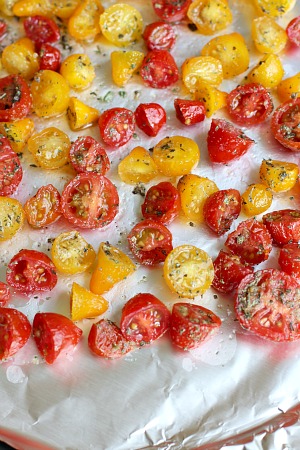 Next, line a baking sheet or round pizza pan with foil or parchment paper. Spread the tomatoes out as evenly as possible without them touching each other. Turn so the cut sides are facing up and not crowded together on top of each other.
Place the baking sheet of cut in half, seasoned tomatoes in a preheated 400F degree oven for about 15 – 20 minutes.
I checked mine after 15 minutes and they weren't done. So I put them back in the oven for another 5 minutes.
When they're done, take the pan out of the oven and put it on a wire cooling rack for about 5 minutes. Carefully remove each of the tomatoes from the baking sheet without squishing them. If they don't come off easily with your fingers, gently scrape them off with a small metal spatula.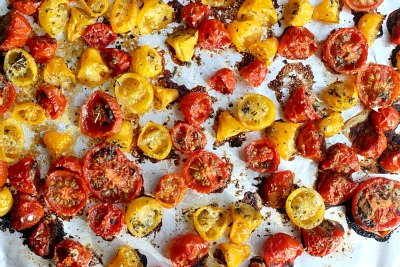 They'll look like the picture on the left when they're done.
The finished tomatoes can be used right away or you can transfer them to an airtight container and put them in the refrigerator to use later. Keep them refrigerated until you need them. They should keep for about a week refrigerated.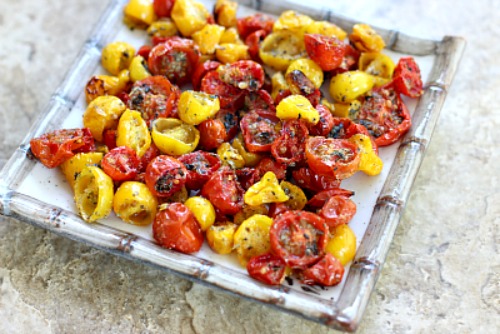 Use these Oven Roasted Cherry Tomatoes to top soups, stews, salads, breakfast bowls, etc. for the sweetest and delicious flavor treat and colorful garnish.
Inspired by: Ina Garten
Another method to save those cherry tomatoes that are starting to shrivel:
Did you try making these?
Please let me know how these Oven Roasted Cherry Tomatoes turned out for you or if you'd like to make them. I'd really appreciate it if you'd leave a comment and a rating below. I'd love to hear from you!