If you're anything like me, you love the herbs that give food that holiday comfort food flavor – rosemary, sage, and thyme that are in this delicious gluten-free Holiday Quinoa Side Dish.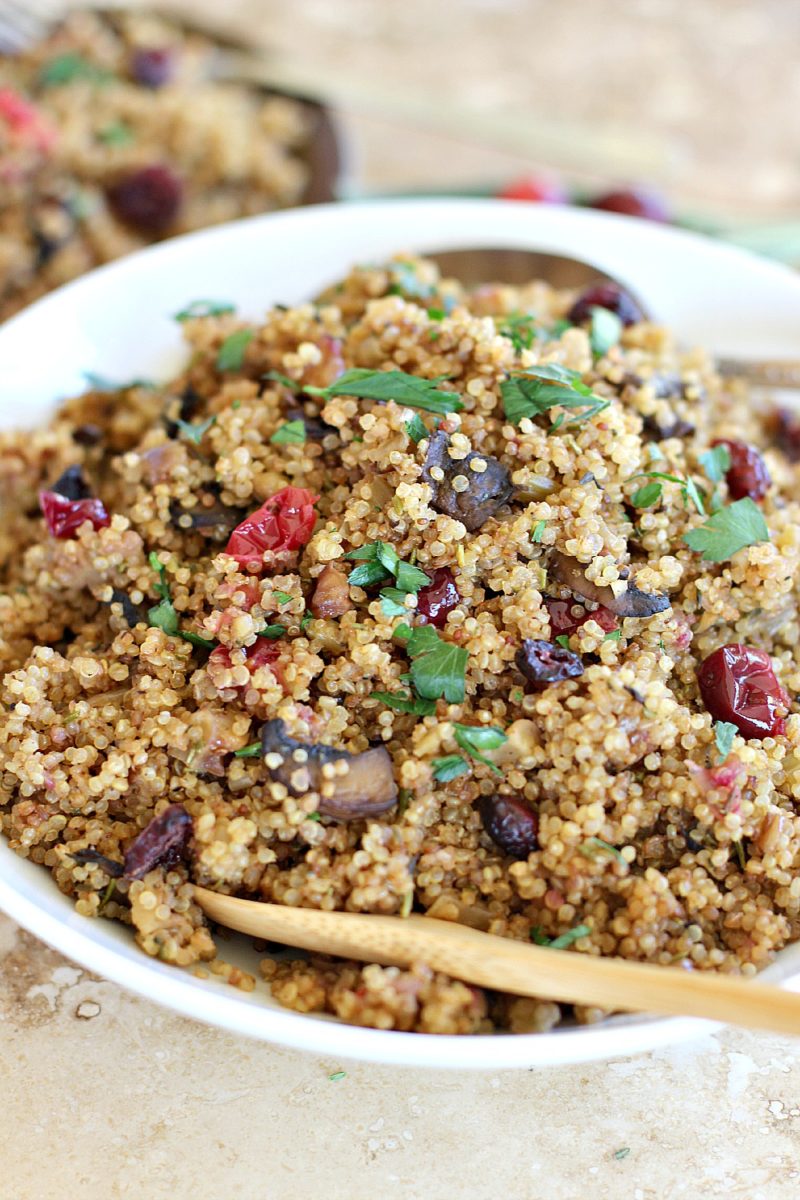 Holiday Quinoa
It's Almost That Time
Some of you may know this about me, but if you don't, I must confess that I'm a very big quinoa lover. I don't think I'm alone in this though! So, in honor of the season, I made a Thanksgiving gluten-free quinoa side dish that has the flavors of the season – sage, rosemary and thyme, with a little parsley on top.(sounds like a good song title – right Simon and Garfunkel?).
I don't know about you, but we don't always have a big Thanksgiving celebration. But even if it's just a couple people together, it's a great time for good food and thankfulness no matter what, right?
Even for those of us who won't be having a turkey, there are so many dishes that can grace our Thanksgiving table. Colorful salads like my Autumn Salad, yummy mashed potatoes,( I like to put rosemary in mine), cranberry/orange salad, baked squash, Brussels sprouts, and, of course, this delicious Thanksgiving quinoa to name a few.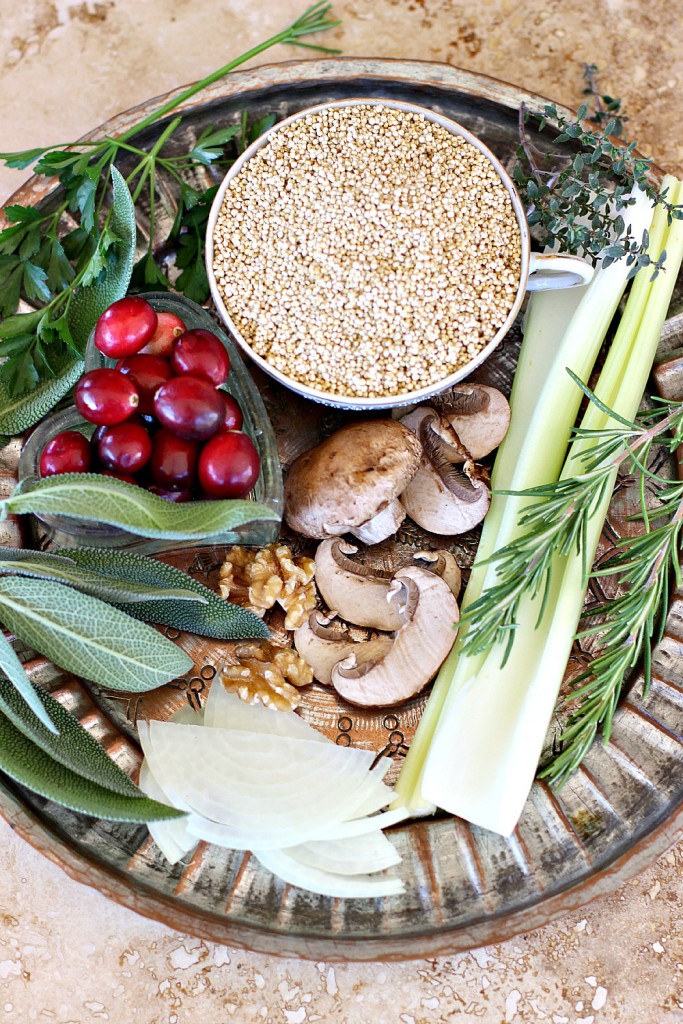 As I was making this quinoa dish, the smell of the herbs was filling the kitchen when my son came home from work. I was really happy that he was interested in trying it out and actually liked it. He even offered me a couple good suggestions. I really do value his opinion – he's usually very honest and I love that about family. We're not afraid to tell each other how it really is!
There is something so warming and comforting about the combination of these savory herbs, don't you think? With the smell of some apple and pumpkin pie spices, some eggnog and a fire in the fireplace – you really start those good feelings coming on!
So, I hope you'll try this Holiday Quinoa Side Dish for the holidays or actually any time would be good. ENJOY!
PS: This recipe can be made the day before and reheated in the oven in a covered casserole dish – easy peasy!

Here is the recipe:
Holiday Quinoa Side Dish
This gluten-free quinoa dish is perfect for the holidays with the comforting savory herbs of sage, rosemary and thyme. It's a side dish that can be made the day before and heated in a casserole in the oven and topped with dried cranberries and fresh chopped parsley before serving. The vegan and vegetarian options depend on whether you use olive oil or butter for sauteing.
Servings:
6
- 1 cup servings
Ingredients
1 1/2

cups

quinoa

1/4

cup

walnuts,

chopped very small

2 3/4

cups

vegetable broth,

NOT with a tomato base

1

teaspoon

fresh chopped thyme leaves

1

Tablespoon

fresh chopped rosemary leaves

1

Tablespoon

fresh chopped sage leaves

1

tsp

salt,

more later to taste if needed

16 -20

fresh cranberries

cut in half

1 -2

Tablespoons

olive oil or unsalted butter

1

cup

crimini mushrooms,

sliced

1/4

teaspoon

each dry sage,

dry thyme and garlic granules

1

cup

onions,

chopped

1

cup

celery,

sliced

1/4

cup

dry white wine

*Dried cranberries and fresh chopped parsley to garnish - optional pomegranate seeds*
Instructions
Combine the dry quinoa with the chopped walnuts and toast in a dry frying pan on a medium heat - stirring often as it toasts for about 5 minutes. Do this until the edges start to brown and the quinoa smells nutty and turns a light golden color. Keep a close eye on it so it doesn't burn - it can happen quickly! Remove from burner and set aside.

In a large, thick bottom pot, bring to boil 2 3/4 cups vegetable broth

Add 1 Tablespoon fresh chopped rosemary, 1 Tablespoon fresh chopped sage, and 1 teaspoon fresh thyme leaves and a teaspoon of salt

When it returns to a boil, turn down and simmer for about 2 minutes.

Add 16 - 20 fresh cranberries cut in 1/2 and leave them in for about 30 seconds to 1 minute.

Add the toasted quinoa and walnuts and bring it back to a boil

Turn down the heat to simmer and cover until the liquid is absorbed - about 15 minutes.

While the quinoa is cooking, saute your crimini mushrooms in a pan with either olive oil or unsalted butter and add 1/4 teaspoon dry sage, 1/4 teaspoon dry thyme and 1/4 teaspoon garlic granules.

*DO NOT SALT the mushrooms until after they're cooked so they don't release water and get spongy.*

Cook those until done, then add a little more oil or butter and add the chopped onions and celery and saute until done. Add 1/4 cup dry white wine to deglaze the pan (this captures all the flavors from whatever has stuck to the pan from sauteeing)

Let it cook for a couple minutes until the wine evaporates - then take it off the heat.

When the quinoa is done, fluff it up with a fork and put it into a large bowl

Gently stir in the onion, mushroom, celery mixture - taste and add salt & pepper if needed

To Serve - top with some dried cranberries and freshly chopped parsley
Notes
This dish can be made the day before. Just cool and refrigerate covered overnight. When you're ready, preheat your oven to 350 degrees F. Lightly oil a casserole dish, add the Holiday Quinoa, cover and put in the oven for 20 - 30 minutes or until thoroughly heated through. Serve and enjoy!
Another great way to serve this side dish is to stuff 2 halves of a baked butternut squash with hot Holiday Quinoa and garnish with dried cranberries, chopped parsley and pomegranate seeds for a delicious and beautiful presentation.