An Apple Galette may look difficult to make but it is less "fussy" than a pie and is a delicious rustic substitute.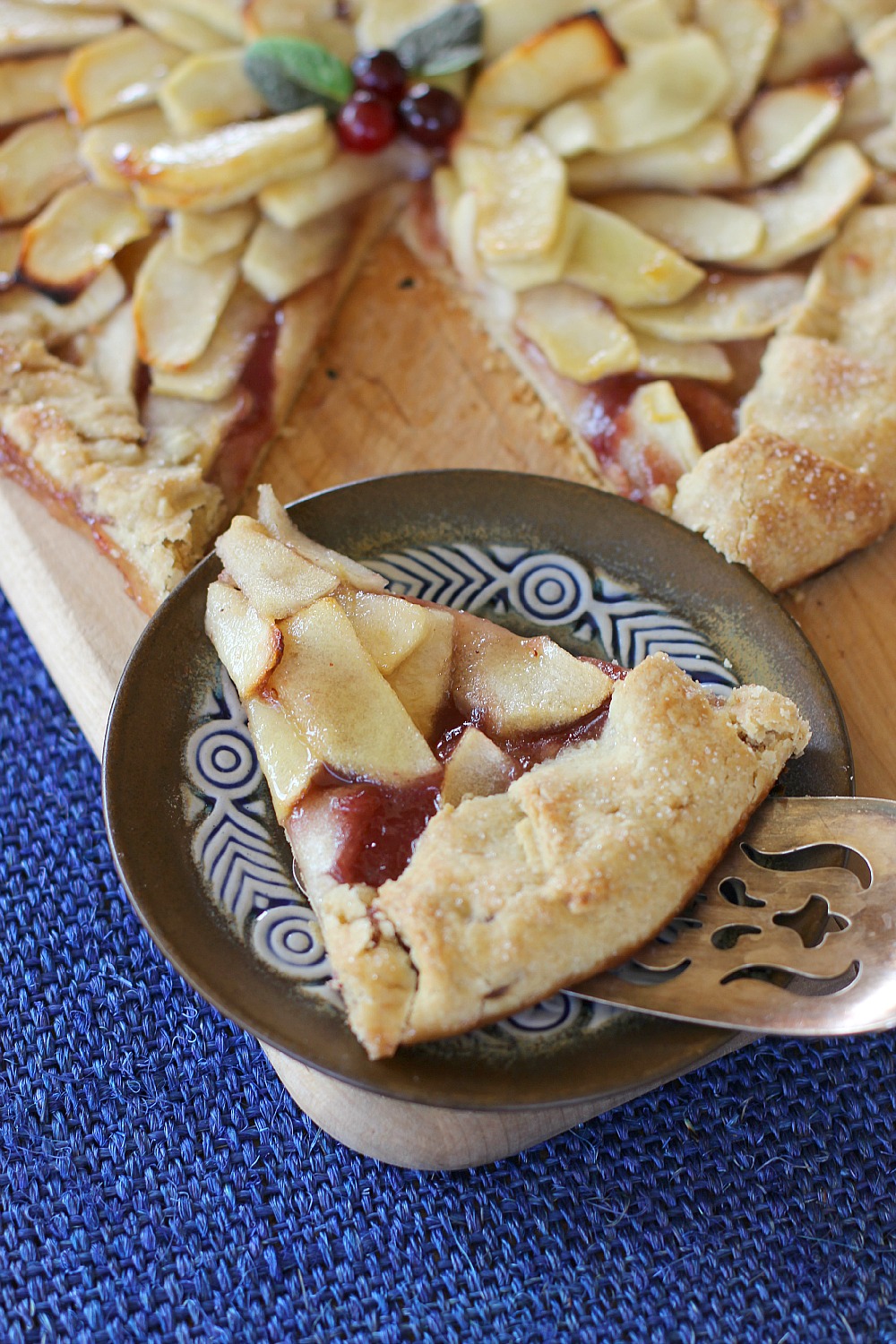 Apple Galette with Cranberry Sauce
Rustic Apple Galette
So, along with pumpkin pie and pecan pie, apple pie is another one of those Thanksgiving favorites. They just smell so darn good when they're baking, don't you think? Pure sweetly scented comfort food!
Something that's just a little easier to make and just as tasty as a pie, is a galette or also called a crostata. A lot of times they're called "rustic galettes" because they can be somewhat crude looking, but still look and taste great.
I don't have an aversion to making pies personally. Actually, it's one of my favorite things, especially the crust and crimping the edges and stuff!
Many people find pie crusts to be intimidating so the galettes are the perfect solution for anything you may otherwise choose to put in a pie, sweet or savory. But, even though they require less perfection, I have to say that I think the galettes are really beautiful in their own right. They really have a rustic charm that is so appealing.

When peaches were in season, I made a peach galette and I also made some individual savory galettes with an eggplant filling. They're really very versatile as far as fillings go.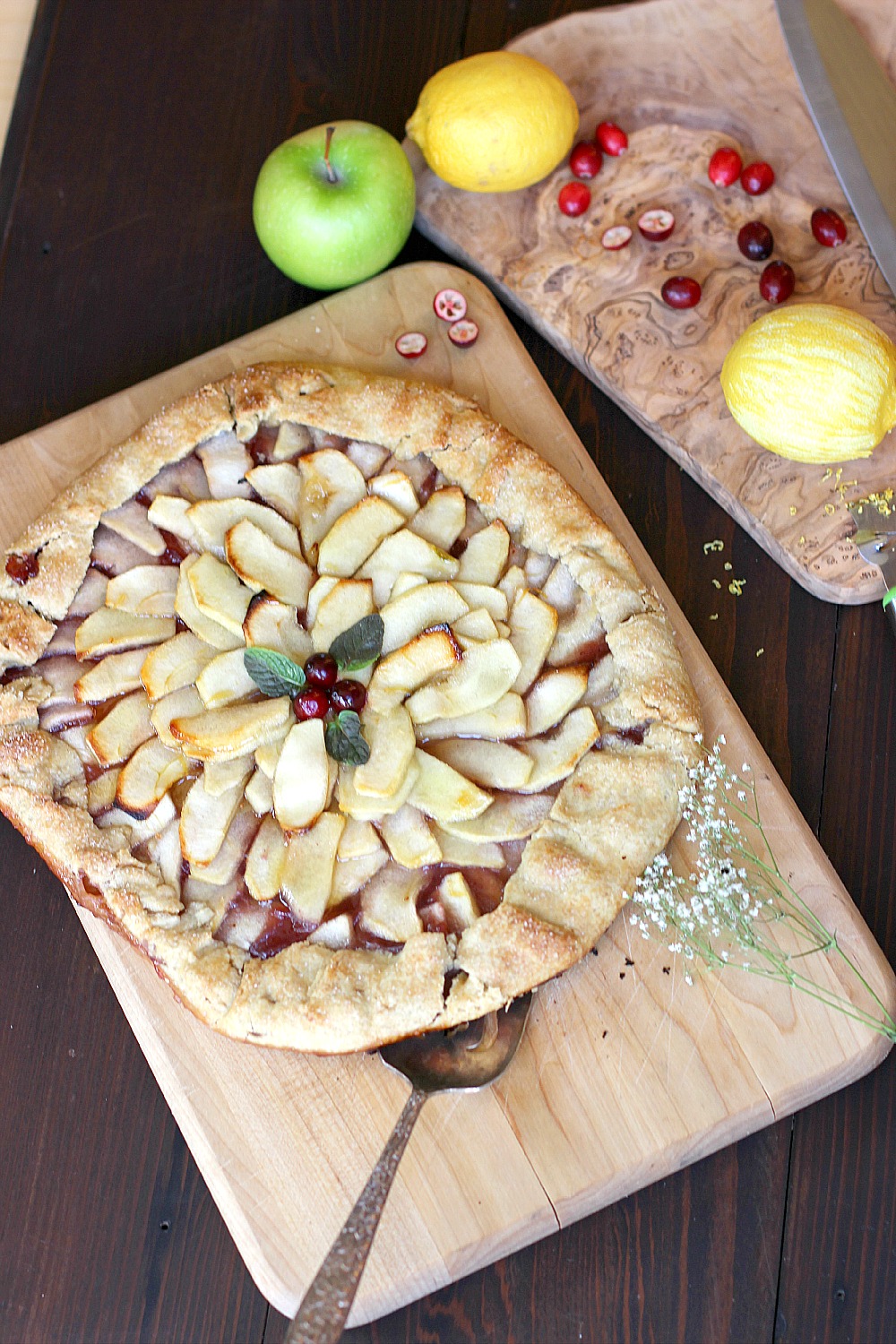 Choose Your Apples
For an apple galette, your choice of apples is probably what is available in your area for pie making. Some good apple examples are Granny Smith, Pink Lady and Honey Crisp. Pie apples should be a little sweet/tart and firm for the best results.
This apple galette has a little something extra that adds some tartness and is totally in tune with the season. Most people who celebrate Thanksgiving or Christmas probably have a can of cranberry sauce around. For this apple galette, cranberry sauce is spread on the crust before adding the apple slices. It adds a little color and helps to temper the sweetness of the galette.
The Crust
You can either make a vegan crust with oil, like olive oil or a standard pie crust using butter. And you can either sweeten your apples with agave for vegan or honey for non-vegans.
The galette I made has an olive oil crust and is sweetened with agave and sprinkled with sugar on the apples and the crust before popping it in the oven.
I was really pleased with how flaky the olive oil crust came out and the end result didn't taste like olive oil at all.
I learned a little trick with the olive oil from a crust recipe by Maya at www.dreamyleaf.com. The trick is to freeze your olive oil before pulsing it in the food processor with the flour mixture. It will then act a lot like cold butter and cause your flour mix to turn into coarse crumbs.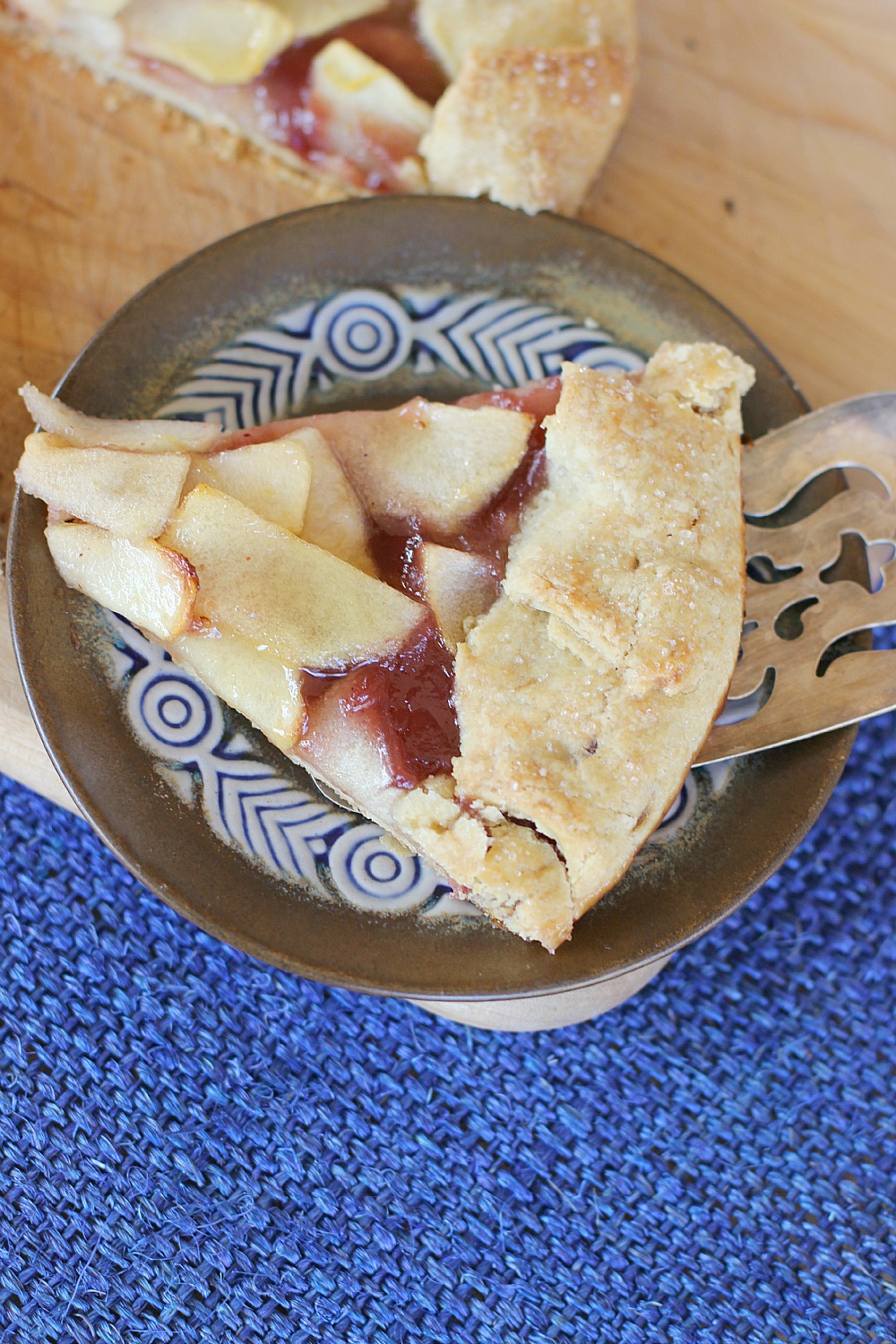 Here is the Recipe:
Apple Galette
This apple galette has a little surprise of a cranberry sauce spread on the crust before adding the apples. This is a perfect dessert or it's also great as a special addition to a brunch. The galette is best served the day it's made but the crust dough can be made in advance.
Ingredients
***IMPORTANT NOTE*** When using olive oil instead of butter for your crust

freeze your olive oil for 1 1/2 - 2 hours before starting to prepare galette

*For the Crust*

3/4

cups

unbleached all purpose flour

1/2

cup

whole wheat pastry flour

2

Tablespoons

sugar

pinch of salt

1/2

cup

olive oil divided into two 1/4 cup portions and put in freezer for 1 1/2 to 2 hours

substitute 8 Tablespoons cold butter cut in 1/2" cubes if not vegan

3

Tablespoons

cold milk

I used almond milk

1

tsp

vanilla

*For the Filling*

1 1/2

pounds

Granny Smith apples

peeled, cored & cut into 1/8" thick slices, about 6

3

Tablespoons

agave or honey

1

tsp

finely grated lemon peel

1/2 - 3/4

cup

canned cranberry sauce
Instructions
To make the crust, sift together your unbleached all purpose flour and your pastry flour

Add a pinch of salt and the 2 Tablespoons of sugar

Put this mixture in a food processor with the steel S blade and blend

Add your frozen or partially frozen olive oil to this and pulse a few times until it forms a crumble that resembles coarse crumbs

Add your cold milk and vanilla and pulse until the dough begins to clump together

Take out of the food processor and gather the dough into a ball and flatten that into a disk shape

Wrap that in plastic wrap and refrigerate for 1 hour

**Dough can be made a couple days ahead and kept in the refrigerator - allow it to soften slightly before rolling out**

While your dough is in the refrigerator, prepare your apples

Peel and core the apples

Cut each apple in 1/4 and slice into 1/8" thick slices

Add the agave or honey to your apple slices and the finely grated lemon peel & stir together

After 1 hour, remove the plastic wrap from your refrigerated dough and put it between 2 pieces of parchment paper

Roll out into a 12" - 14" round about 1/8" thick and remove upper parchment piece

With the help of the parchment paper, move the rolled out dough onto a baking sheet and put in the refrigerator to chill for about 15 minutes

Preheat your oven to 425 degrees F

Remove rolled out dough from the fridge

At this point, spread the cranberry sauce from the center out to about 1 1/2" - 2" from the edge of your crust

Then add your apple slices, starting from edge of the cranberry sauce, in an overlapping circular shape until they meet in the center

With the help of the parchment under the crust, lift the crust in sections as you go around gently folding it over the apples along the edge, pinch together any cracks

Brush the folded up crust edges with a little milk

Lightly sprinkle the crust edge and the apples with sugar

Place the galette with the parchment, onto a baking sheet

Bake for 30 - 35 minutes in a 425 degree F oven until crust is golden and apples are tender

Remove from the oven when done and gently loosen under the galette with a long knife or spatula

Let it sit and cool for about 10 minutes and slice into wedges and serve warm or room temperature

**Note: the galette is best the day your prepare it*