Feta cheese and kalamata olives bring a rich flavor sensation to this delicious and fresh Greek Quinoa Salad.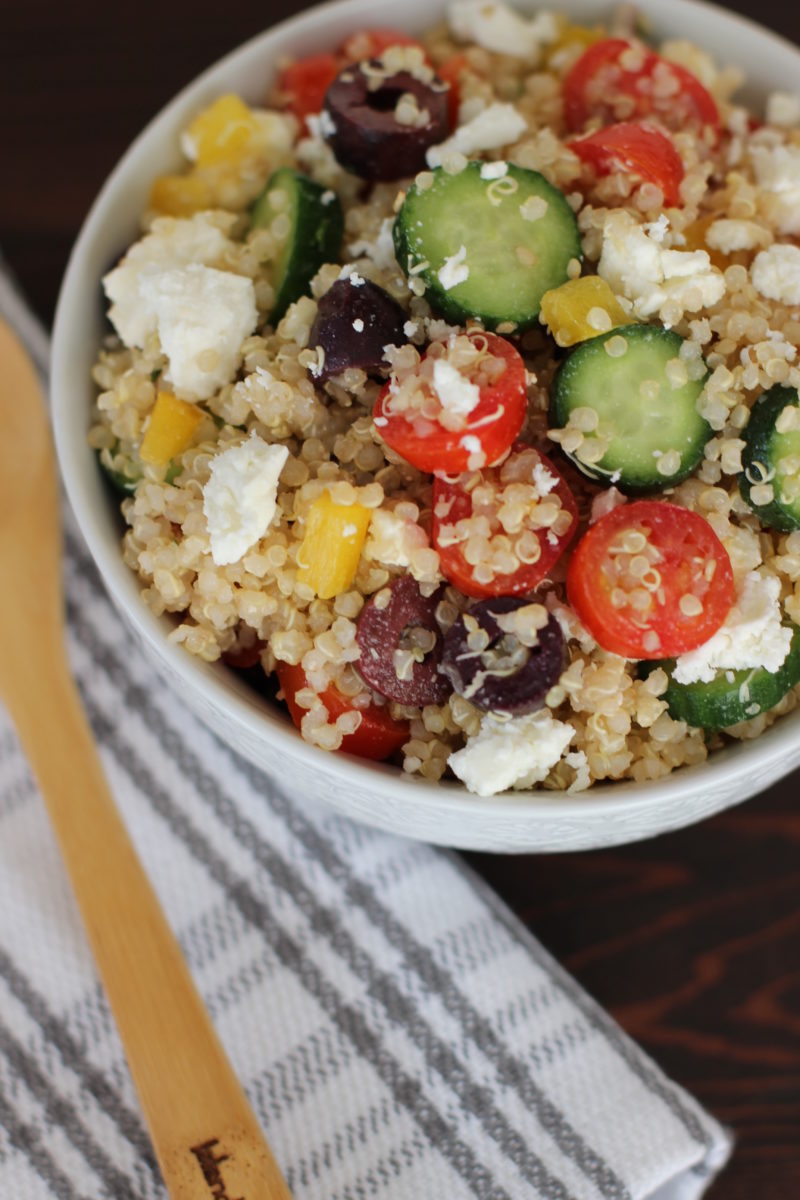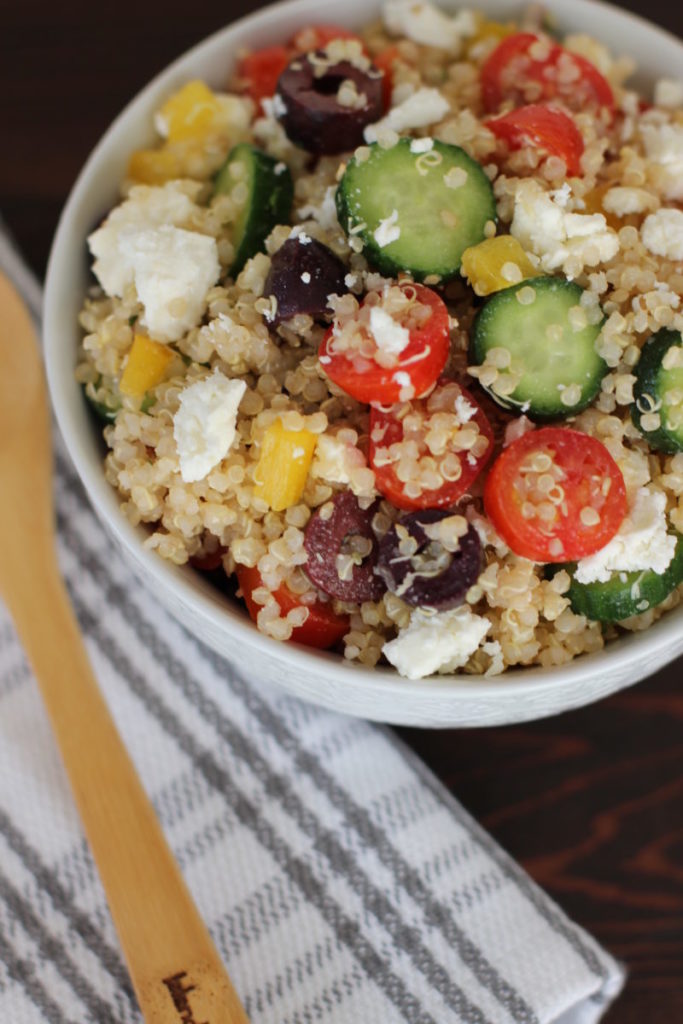 Drum Roll Pleeeze! This is Vegelicious Kitchen's First Post!
I'm excited that Vegelicious Kitchen has finally come to birth – sometimes births take a long time. I should know, I've had 4 kids. I know this isn't quite the same but I'm happy about it.
Quinoa is such a staple in my family and so versatile. There are so many ways to use it – sweet or savory. I tend to really like all things Greek, probably because I think kalamata olives and feta cheese are delicious – especially together.
A dish like a quinoa salad can be served warm or cold. This one is the cold version. This is the perfect meal for making ahead. It will keep nicely in the refrigerator for about 3 days and it is great to eat at home or easy to take in a container to work or school.
I make my quinoa in a rice cooker. It turns out perfect every time. But if you don't have one, stove top is also really easy and takes just a short time – like 15 minutes. I'm not a microwave gal, but there are instructions on the quinoa package for making it in the microwave.
You can make your salad colorful by your choice of veggies. I like the saying "eat the rainbow" – there is something so appealing about colorful food. It appeals to our sense of sight which is so important as a first impression. And, if it tastes delicious too, you've got a winner.
Here is the recipe:
Greek Quinoa Salad
Greek quinoa salad with raw veggies, crumbled feta and sliced kalamata olives lightly topped with a lime/olive oil dressing
Ingredients
2 1/2

cups

quinoa

cooked

1/2

cup

feta Cheese

crumbled

1/2

cup

kalamata olives

sliced in thirds

1

cup

Persian cucumbers

sliced in rounds

1/4

cup

yellow bell pepper

chopped small

1/4

cup

red onion

minced

1

cup

sugar plum or cherry tomatoes

sliced in thirds
Dressing
1/4

cup

fresh lime juice

2

T

olive oil

2

cloves

garlic

minced

1

T

fresh parsley

chopped

1

tsp

. Dijon mustard

1-2

tsp

. agave nectar

1

tsp

. sesame seeds
Instructions
First rinse and cook your quinoa according to package directions

While quinoa is cooking prepare your dressing by whisking together the ingredients and setting aside

Next start preparing your vegetables and cheese

Crumble feta

Slice Persian cucumbers in small rounds

Mince red onion

Cut tomatoes in quarters or slice in thirds

Slice Kalamata olives in thirds

Chop yellow bell pepper small

When the quinoa is done cooking pour it into a bowl to start cooling. Give it a few gentle turns while it is cooling so it won't clump and will cool faster. Place bowl in the refrigerator to cool faster.

When the quinoa is cool, gently fold in all the veggies and olives

Fold in the dressing gently (you may not want to use all the dressing so taste before you pour all of it on.)

Top with the crumbled feta cheese
Notes
This recipe is very adaptable to different vegetable choices like substituting red bell pepper for the yellow, green onions instead of red onion, large cucumber cut in small pieces instead of the Persian cucumbers, yellow tomatoes, etc.
Have fun and enjoy eating the rainbow!
Things you'll need:
*feta cheese *quinoa *fresh limes *Kalamata olives *olive oil
Recipe inspired by: theroastedroot.net