Soft and sweet Medjool dates along with my favorite cardamom spice make these delicious Scandinavian Christmas inspired Date Filled Cookies.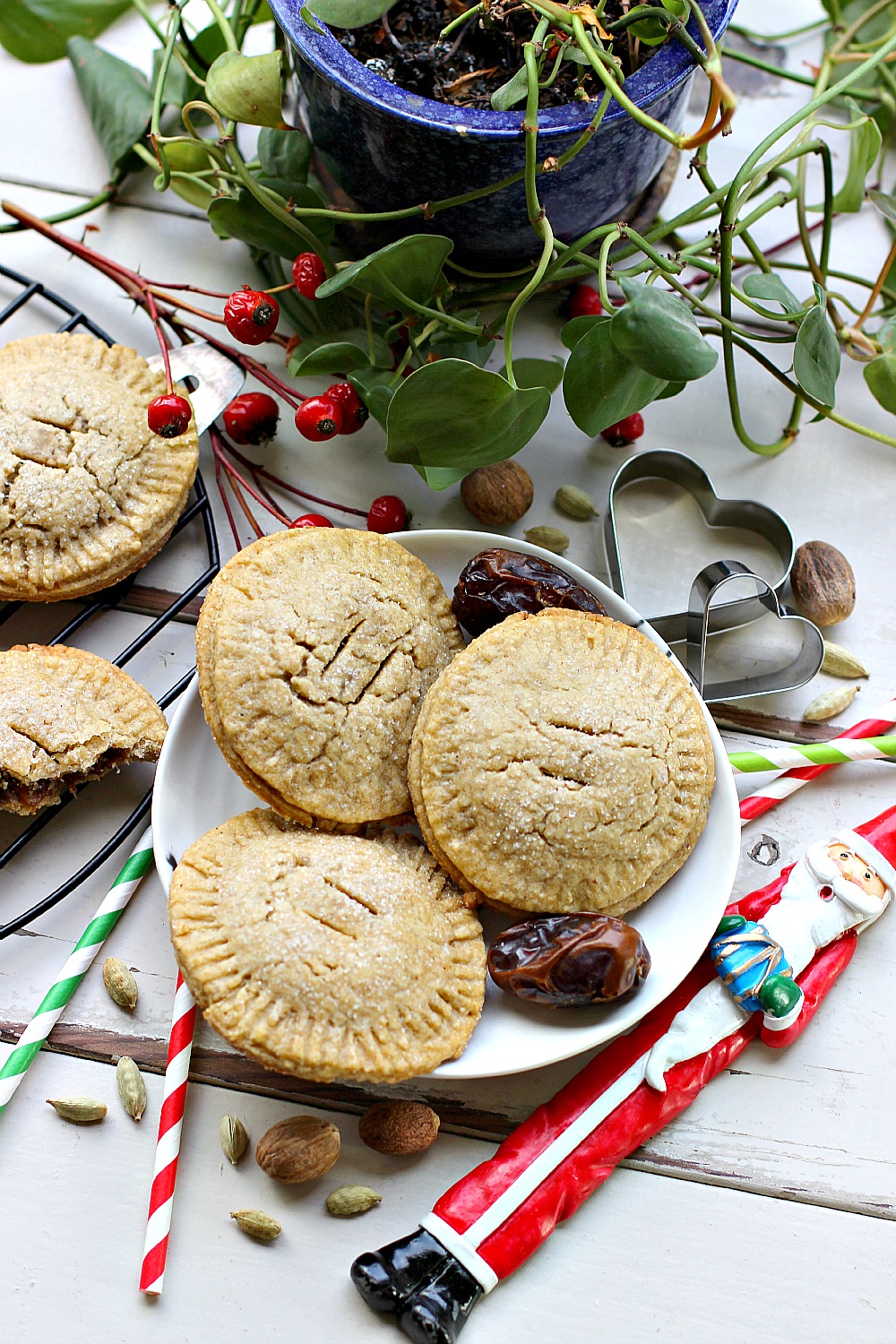 Baking is such a fun part of the holidays! My favorite memories of Christmas are the Scandinavian baked goods that my aunt and other women in my neighborhood would make. Since I really love dates and cardamom, one cookie that really stands out in my memory is a date filled cookie that a dear neighbor would make – so delicious!
My dad was Norwegian and we lived in an area of my town in northern New Hampshire called the Norwegian Village. The streets were named Norway, Sweden, Denmark and Finland. So, at Christmas time, in true Scandinavian fashion, there were always the delicious cookies, pies, breads and all sorts of festive treats being made that I came to love and associate with that time of year. I have such fond memories of that time!
Besides my aunt, a Norwegian lady who lived in the apartment above my family, would make the most delicious baked goods too! One of my favorites were the date filled cookies that she used to make. They were like round sandwich cookies with a date filling and a dough that had nutmeg and my favorite spice, cardamon.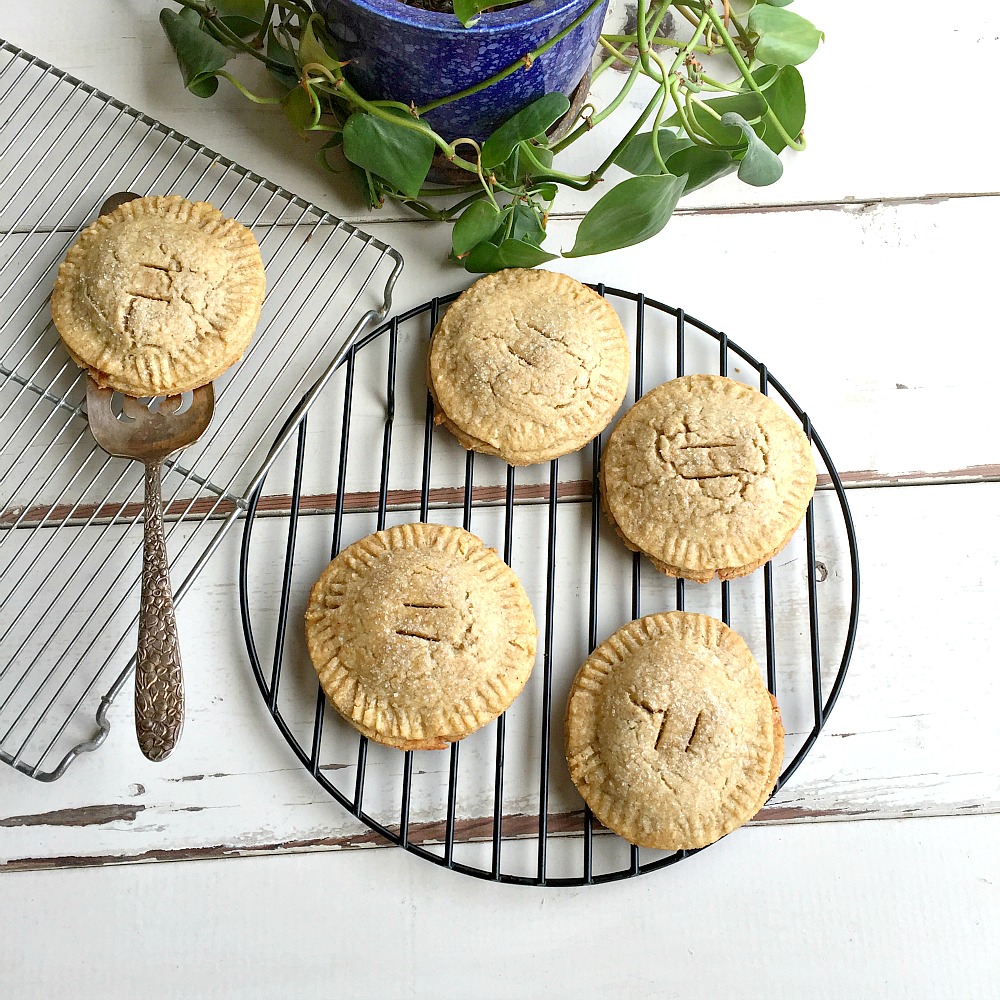 My recipe is a vegan variation. The dough that I used to make these cookies is an oil based pie crust dough that's still a little sweet and spiced with cardamom and nutmeg. My filling is made with a combination of Medjool and Deglet Noor dates.
This recipe makes a large cookie with a top and bottom crust and date filling sandwiched in the middle. It's my vegan version of that special holiday cookie that Ingeborg used to make and I loved. Perfect to serve with a cup of coffee or tea!
A Couple Tips:
The cookies are best when warm out of the oven. If they're allowed to cool, store them in an airtight container or put them on a plate and cover them with plastic wrap.
When you're ready to serve them, pop them in a 350 degree F oven on a cookie sheet for 5 minutes and serve warm.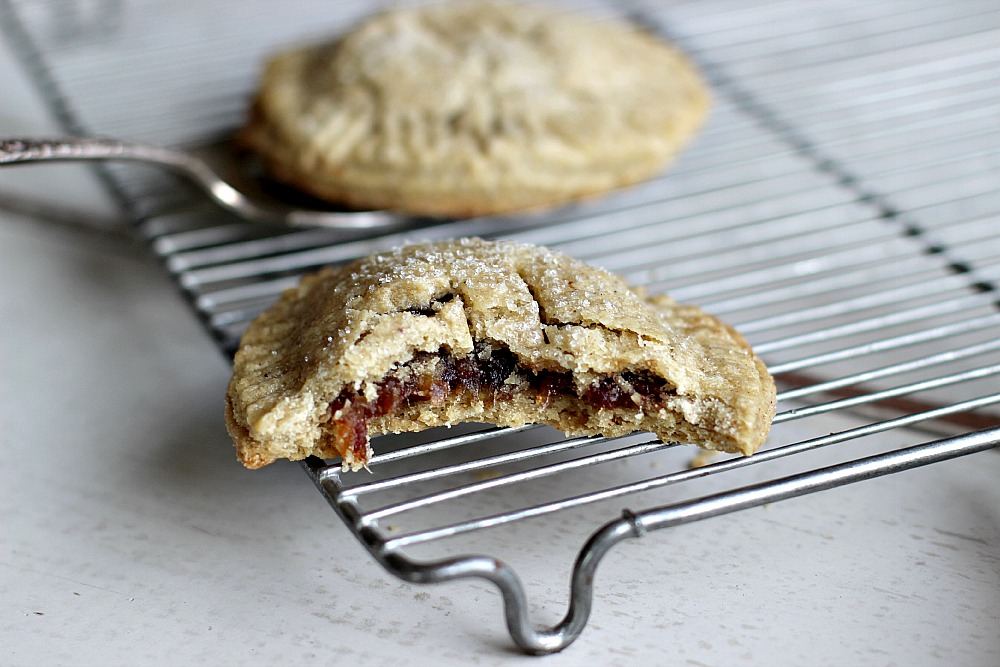 Here Is The Recipe:
Date Filled Cookies
These date filled cookies are especially delicious when warm. If they're allowed to cool, heat them on a baking sheet for 5 minutes at 350 degrees F. before serving. They'd be great served with a hot cup of coffee or tea!
Ingredients
***Important Note*** Ahead of time

freeze your olive oil two 1/4 cup portions for 1 1/2 - 2 hours before preparing crust

*For the Crust:

3/4

cup

unbleached all-purpose flour

1/2

cup

whole wheat pastry flour

2

Tablespoons

plus 1 teaspoon sugar

a pinch of salt

1/2

teaspoon

ground cardamom

1/8

teaspoon

ground nutmeg

1/2

cup

olive oil divided into two 1/4 cup portions and put in the freezer for 1 1/2 - 2 hours

3

T

cold milk

I used unsweetened almond milk

1

teaspoon

pure vanilla extract

*For the Filling*:

2/3

cup

snipped dates

I used a combo of deglet noor and Medjool

1/8

cup

sugar

1/4

water
Instructions
To make the crust, sift together your unbleached all-purpose flour and your pastry flour

Add a pinch of salt and the sugar, nutmeg & cardamom

Put this mixture in a food processor with the steel S blade and blend

Add your frozen or partially frozen olive oil to this and pulse a few times until it forms a crumble that resembles coarse crumbs

Add your cold milk and vanilla and pulse until the dough begins to clump together

Take out of the food processor and gather the dough into a ball and flatten that into a disk shape

Wrap that in plastic wrap and refrigerate for 1 hour

**Dough can be made a couple days ahead and kept in the refrigerator - allow it to soften slightly before rolling out**

While your dough is in the refrigerator, prepare your date filling

In a pot, combine your dates, sugar and water and heat slowly, stirring constantly

When it gets thick, take it off the heat and let cool

After 1 hour, remove the plastic wrap from your refrigerated dough and put it between 2 pieces of parchment paper

Roll out into a 12" - 14" round about 1/8" thick and remove upper parchment piece

With a 3 1/2" circle cookie cutter, cut out 12 round pieces of dough and put on a parchment lined baking sheet and put in the refrigerator to chill for about 15 minutes

Preheat your oven to 375 degrees F

Remove dough circles from the fridge

Put 1 Tablespoon of the date filling in the center of one of the dough circles and then put another dough circle on top and crimp the edges with a fork around the entire edge of the circle to seal

Brush the top of the hand pie with some milk (I used almond milk)

Cut 2 small slits in the top crust

Lightly sprinkle the top with sugar

Repeat for each hand pie

Place the hand pies on a parchment lined baking sheet and bake for 15 minutes at 375 degrees F

When done, let cool a little, but not completely, because they are very good when still warm

If allowed to cool completely, they can be eaten cold or reheated in a 350 degree F oven for 5 minutes

Store in a airtight container