A combination of delecata and acorn squashes with coconut milk makes this tasty, rich and creamy blended Coconut Curry Squash Soup.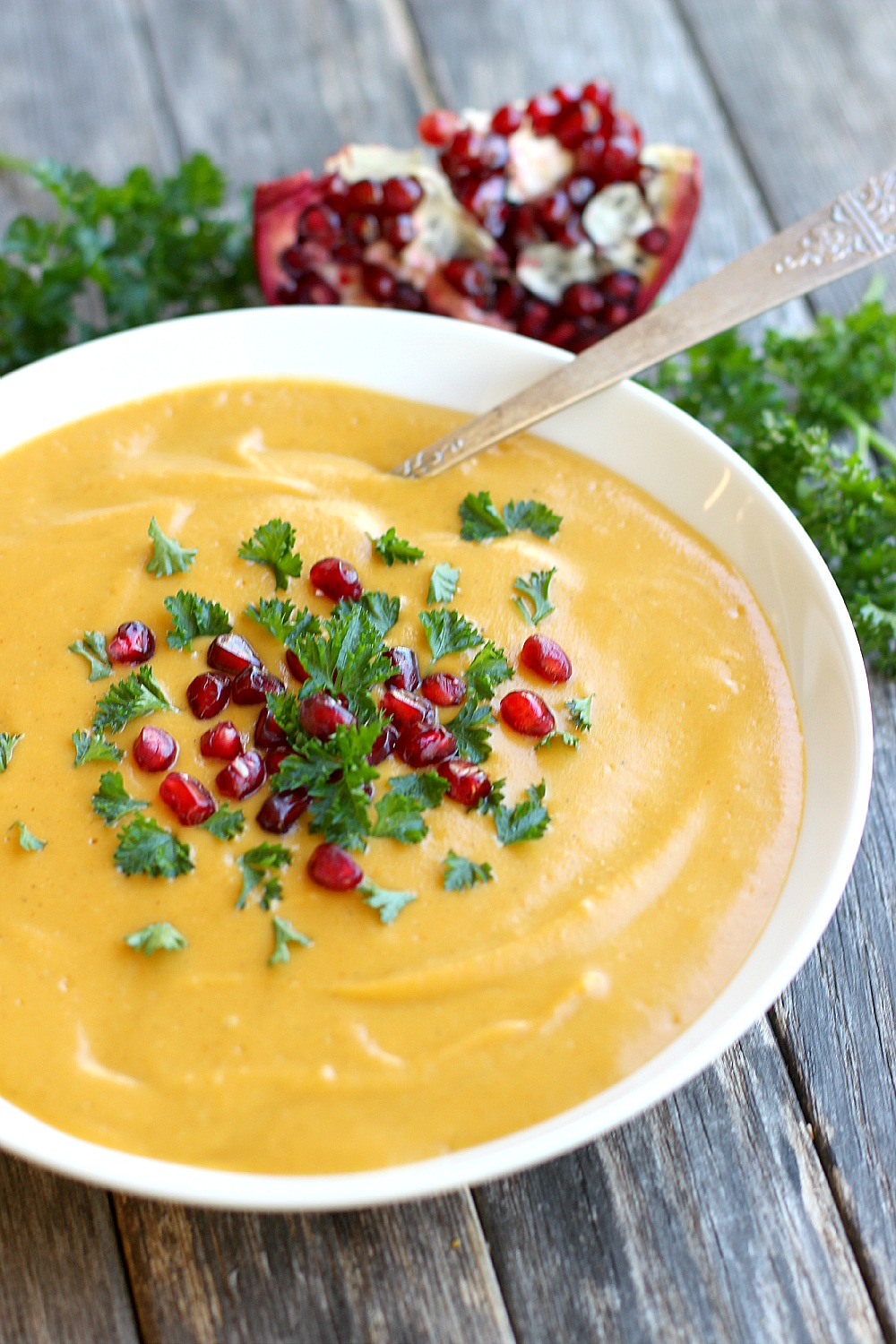 My intention was, pure and simple, to make a creamy coconut curry squash soup. Well, I succeeded at that. It's a very thick and rich soup as it is, but can be thinned out a little with either vegetable broth or some light coconut milk if you don't want such a thick soup.
A Coconut Curry Squash Soup Discovery
Something I discovered after making this soup, is that it actually makes a really good sauce. It's a little spicy with the red curry paste in it and it's very creamy and flavorful – perfect for a sauce over vegetables like cauliflower or broccoli or a mixture of both.
My husband had it as a baked potato topping and thought it was delicious like that. So, one thing turned into two! A soup and a sauce all in one!
I used a combination of delecata squash and acorn squash for this coconut curry squash soup because that's what I had. I think it would be just as good with butternut squash or probably any of the winter squashes.
Here in Northern California, the weather has been cool and we've even had some rain. This is perfect soup and comfort food weather!
If you don't like things as spicy, you can cut back on the red curry paste. It's certainly not over-the-top spicy by any means, but it does have a slight spicy bite to it so that's really a personal preference.
I had some roasted garlic that I had made previously but a little fresh garlic, sauteed with the onions would work too.
Just as a little tip if you like the taste of roasted garlic, try to make some ahead and keep it in the refrigerator for recipes. I personally think it's a great addition to so many dishes.
Whether you make this recipe as a soup or a sauce, I think it can be made to look very festive for the holidays with a garnish of red pomegranate seeds or small pieces of chopped red bell pepper along with a sprinkle of fresh parsley.
Here is the Recipe:
Coconut Curry Squash Soup
This creamy soup is very thick and rich and can be thinned down with a little vegetable broth or light coconut milk. It also makes a tasty sauce for steamed veggies, rice, baked potatoes, etc.
Servings:
4
- 1 cup servings
Ingredients
1

medium acorn squash

1

medium delecata squash

1

onion

chopped small

1

shallot

chopped small

4-5

cloves

of roasted garlic or 3 fresh garlic cloves

minced

1

Tablespoon

olive oil

1/2

teaspoon

curry powder

1 13.5

oz

. can of light coconut milk

2

Tablespoons

of red curry paste

1/2

cup

vegetable broth

a pinch of sugar

salt to taste
Instructions
Preheat your oven at 350 degree F

Cut your squash in half, scoop out the seeds and place cut side down on a foil lined baking sheet

Before baking, poke the squash with the sharp point of a knife in several places.

When the squash is done, it will be easy to pierce with no resistance

Scoop out the cooked squash and put in a bowl and set aside

Saute the onions and shallots in olive oil over medium heat, adding a little salt

Add water when the pan becomes dry to prevent burning the onions and shallots and continue cooking and adding more water as needed to cook the onions and shallots until soft

When almost done, add the roasted or fresh garlic and cook for another 30 seconds to 1 minute

Stir in the cooked squash and the curry powder, combine and cook together for a minute or so

In another pan, heat the coconut milk and whisk in 2 Tablespoons red curry paste and a pinch of sugar and bring to a simmer on medium low - medium heat and simmer for about 5 minutes

Combine squash mixture and hot coconut milk mixture in a blender and blend until smooth

*This makes a very thick and creamy soup with a little spicy kick which is also good as a sauce

For a thinner soup, add a little vegetable broth or light coconut milk when blending*
PS: As you can see, Trapper is very indifferent about this recipe but he's just like that ya know! He only likes "classic" style "Fancy Feast" cat food. Such a food snob!

My Boy Trapper