This Cranberry Orange Bread is a festive and tart/sweet quick bread that is easy to make and a taste treat to eat!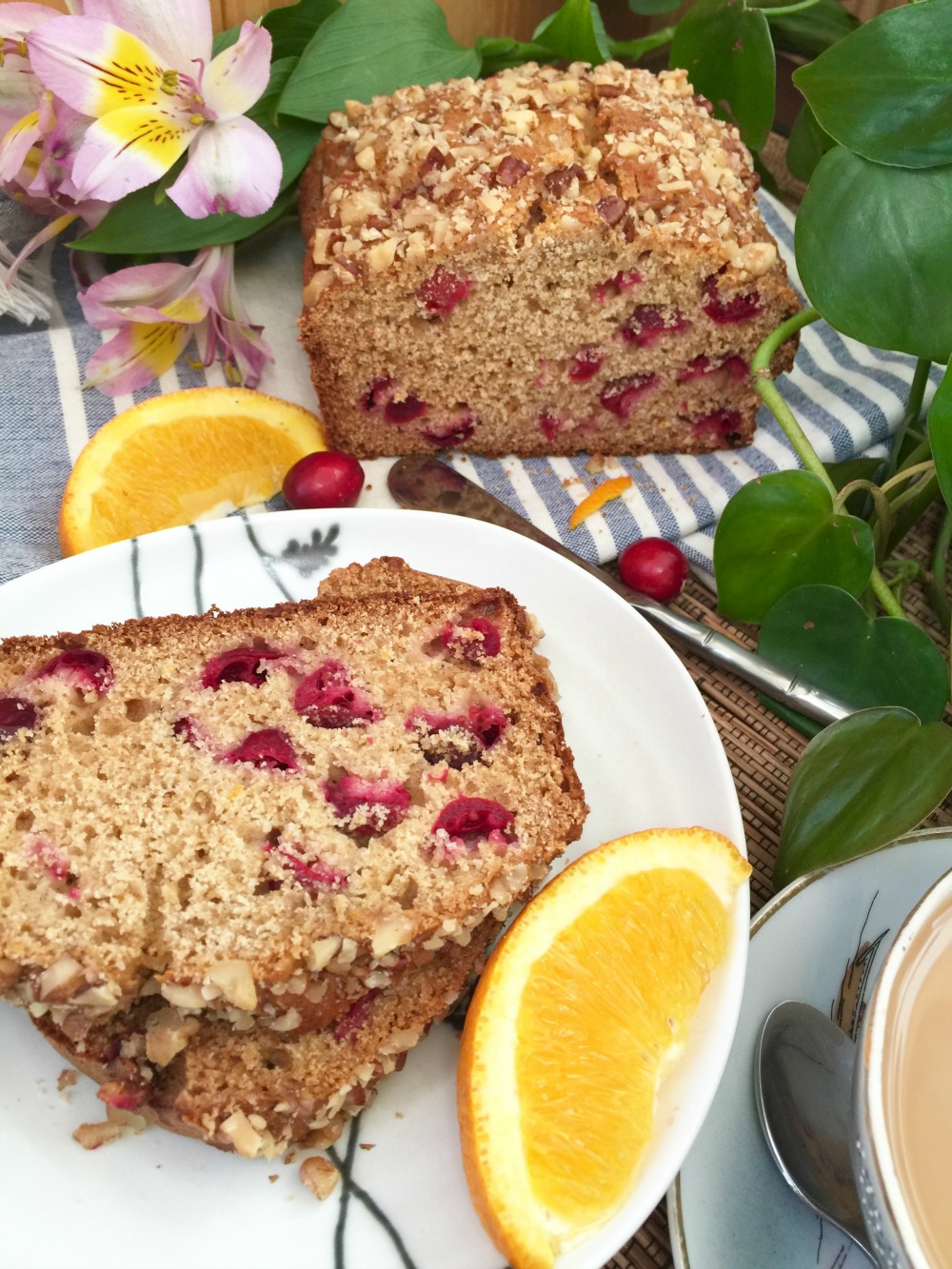 Cranberry Orange Bread
A couple days ago I was in Trader Joe's and it was insanely busy. The parking lot was packed and the store was too. Holidays seem to have that affect on people don't they?? Most of the time, I don't mind a busy store but this was crazy!
Everyone must be trying to get stuff done ahead of time or stock up so the store doesn't run out or something.
Well, that's neither here nor there I guess, but I thought it was interesting. The holidays can really bring out some frenzied activity that's for sure!
So, getting on with things…to me cranberries and oranges go together really well. Besides, their colors just happen to look so festive together.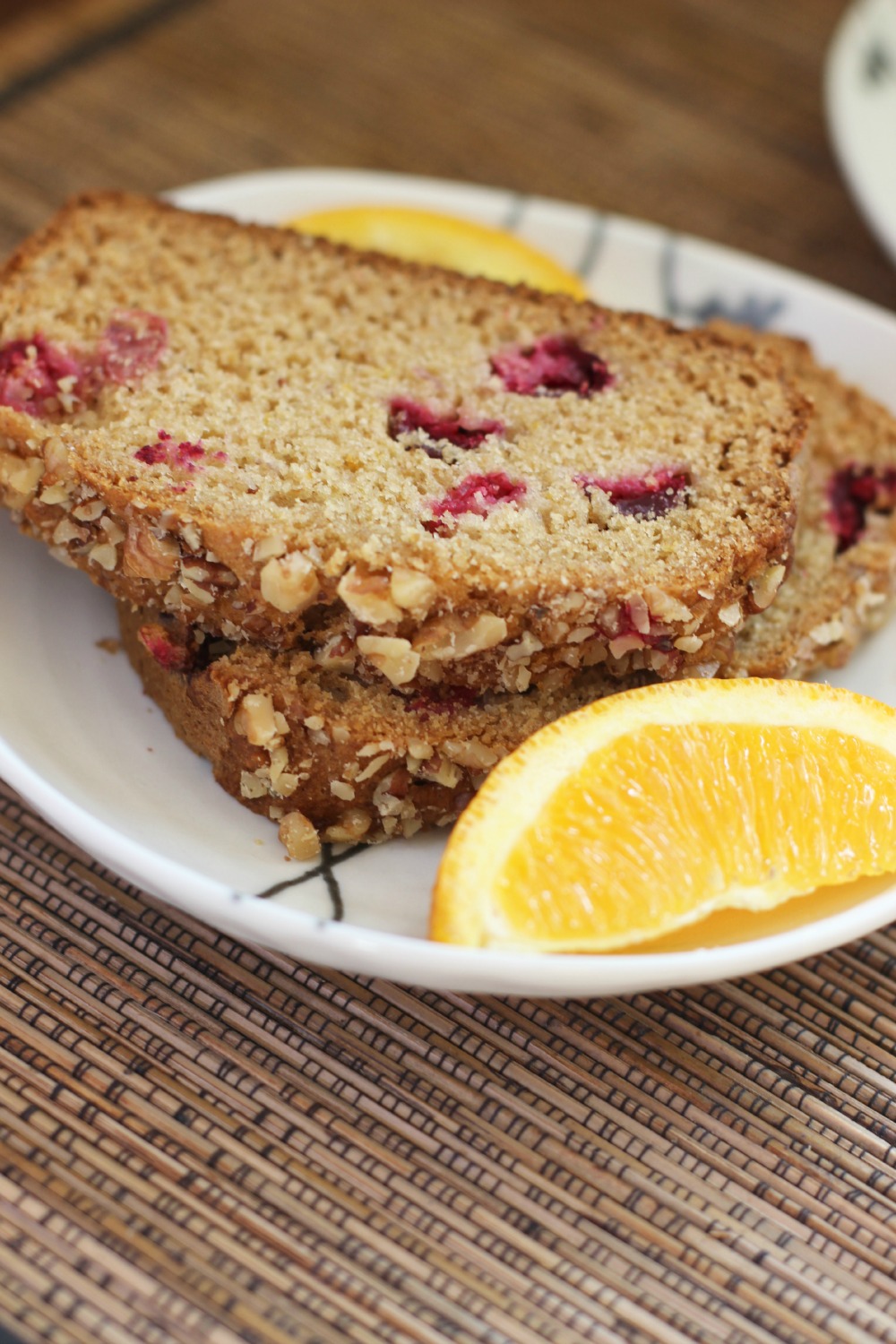 I really like quick breads like banana bread but I have to say that I think my favorite quick bread is cranberry orange bread. I just love the tartness of the cranberries with the sweetness of the bread and the citrus flavor of the oranges.
To me, cranberry orange bread can be a dessert but it's also great as a breakfast bread with a cup of coffee or tea. I don't think of it as an everyday breakfast sort of thing, but I love it for special occasions and holidays.
The recipe can be made either vegetarian with eggs and honey or vegan with "chia eggs" and agave – it's up to you to choose.
TO MAKE CHIA EGGS – Mix 1 Tablespoon chia seeds with 3 Tablespoons of water until it gets gelatinous – this is equivalent to one chicken egg – do this twice if a recipe calls for 2 eggs.
Here is the Recipe for Cranberry Orange Bread:
Cranberry Orange Bread
This Cranberry Orange can be made either vegetarian with an egg and honey or a "chia egg" and agave for a vegan version. It makes a great not too sweet dessert or as a breakfast bread with coffee or tea.
Ingredients
1 1/4

cups

cranberries

cut in 1/2 or left whole

1/4 - 1/2

cup

chopped walnuts

some for inside and some for on top

1

tbsp

orange zest, rounded

1

cup

all-purpose flour

1

cup

wholewheat pastry flour

1 1/2

tsp

baking powder

1/2

teaspoon

baking soda

1

tsp

salt

3/4

cup

honey or agave

3 - 4

tbsp

oil

1/2

cup

orange juice

1

egg or 1 "chia egg"

well beaten

6

drops of orange extract
Instructions
Preheat oven to 350 degrees F

Either oil the bottom of loaf pan and dust lightly w/ flour or line your pan with parchment paper

Prepare cranberries, nuts and orange zest and set aside in separate bowls

In a bowl, sift together flour, salt, baking soda and baking powder

In another bowl, mix the orange juice, egg or "chia egg", honey or agave, oil, orange extract and orange zest

Stir the wet ingredients into the dry just enough to mix (it will still be lumpy)

Fold in the cranberries and nuts OR save the nuts for the topping

Pour the batter into the prepared loaf pan and bake 50 - 60 minutes or until a toothpick inserted in the center comes out clean

***NOTE*** Check your bread around 50 minutes with the toothpick test. Some ovens tend to run hotter than others

Remove the loaf from the oven and cool in the pan on a cooling rack for about 5 minutes,

At that point, remove the loaf from the pan and put on the rack to cool

When the loaf is still a little warm, wrap well in plastic wrap and then some aluminum foil on top of that to keep it moist

You can leave it overnight like that so that the flavors blend (my preference) but not necessary

Slice and ENJOY!