This awesome combination of greens, nuts, pomegranate seeds, apples and persimmons is such a festive fall salad and the flavorful dressing takes it over the top in this Autumn Salad!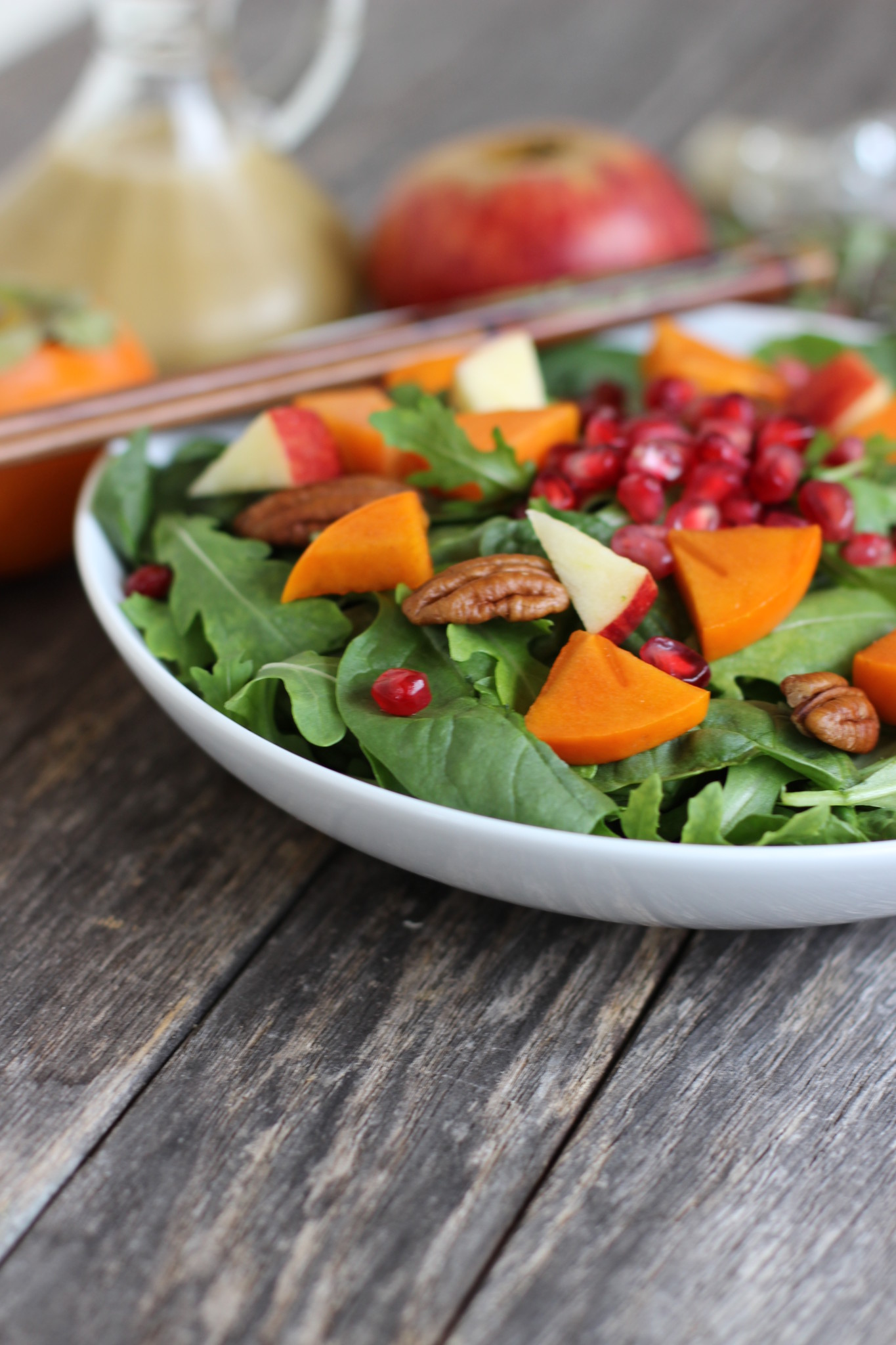 Autumn Salad
Autumn in Northern California
It's feeling very fall like with the colorful leaves falling to the ground, the weather getting cooler and today it's actually raining here in Northern California! I know to most people that isn't a big deal, but here in the San Francisco Bay Area, it's been a very rare occurrence for quite a while and VERY welcome!
A big part of fall around here is the abundant and colorful produce that's available. I'm especially loving the persimmons and pomegranates right now. They add such a beautiful color to whatever they're on.
Local seasonal salad toppings and greens give a nice variation from the usual iceberg lettuce, tomato and cucumber salad. Besides, I love that these things are fresh and growing in my area and haven't traveled thousands of miles to get to the store. Yay Farmer's Markets!
Autumn Salad
When I want to make a salad for a special occasion or one that gets the "wow", "yum" or "so pretty" response from the people I'm serving, this is the one I always prepare – with the addition of my secret weapon, of course – a dressing with such a bright flavor that it's the bomb dot com in my opinion!
This autumn salad is so easy to make but with a touch of elegance because of all the additions that make it special occasion or holiday worthy. It's festive and tasty and adds those vibrant pops of color to a sometimes drab looking meal. It can be a cheerful highlight to a special dinner.
Because I live in California, spinach, arugula, pomegranates, apples and Fuyu persimmons are in season right now. I love these fall colors of greens, reds and oranges, don't you?
I lived on a ranch in Southern California for about 8 years and we had over 100 Fuyu persimmon trees. This was my first experience with them and I really grew to love them. We had so many, that we dehydrated a lot of them and they were so sweet that they reminded me of dates. I think the tops of them are so cute too!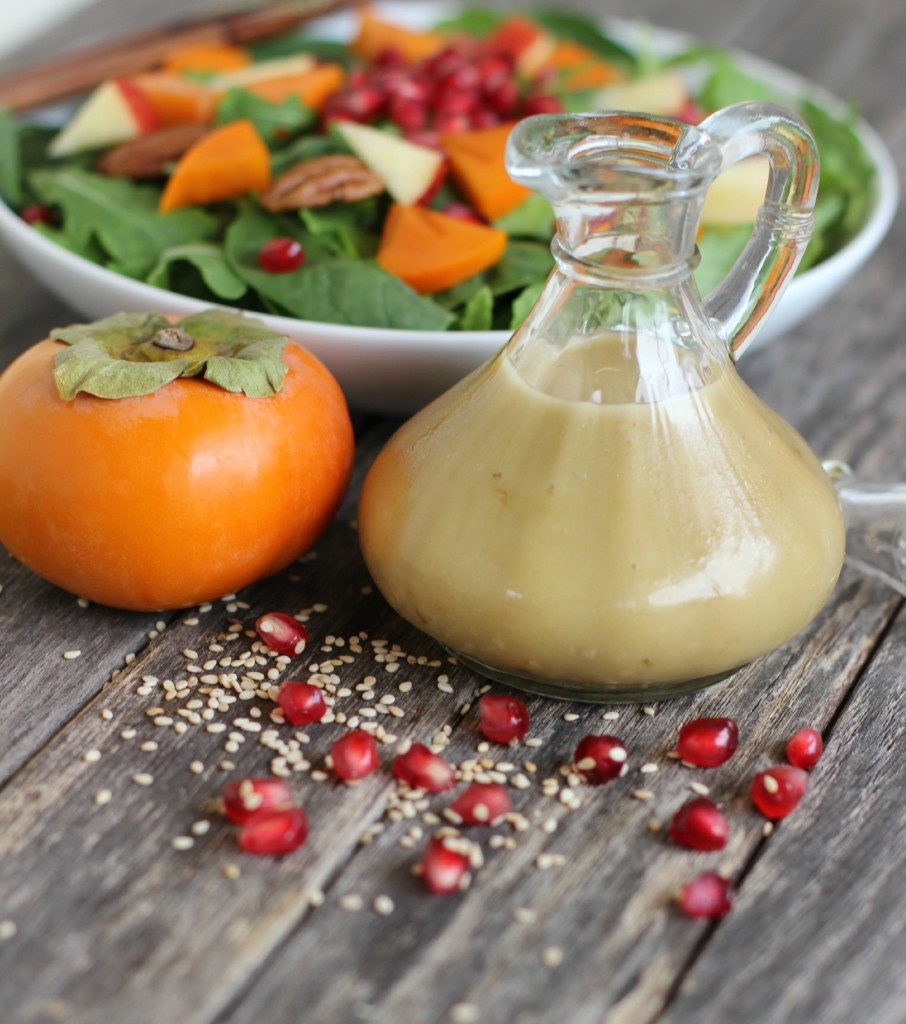 Well, I have to say that this autumn salad is so fresh and good just by itself BUT this dressing!! – it's so flavorful – both sweet and savory at the same time. You have to like Dijon mustard, sesame seeds and garlic though – but who doesn't?
Of course, this salad would be good with other dressings like a balsamic vinaigrette, for example, if the sesame Dijon dressing just isn't your thing!
Here is the Recipe:
Autumn Salad
A special occasion or holiday worthy salad
Ingredients
For the Salad
Baby spinach

Arugula

Apples

chopped

Fuyu persimmons

chopped

Pomegranate seeds

Whole pecans
For the Dressing
1/3

cup

olive oil

2

Tablespoons

Dijon mustard

2

Tablespoons

apple cider vinegar

2

Tablespoons

agave,

maple syrup or honey

2

Tablespoons

sesame seeds

1

clove

garlic

minced

This dressing recipe makes about 3/4 of a cup
Instructions
Combine the dressing ingredients in a jar with a tight fitting lid and shake well.

Refrigerate the dressing for a couple hours to blend the flavors

Shake well before using

Prepare your salad ingredients.

In a salad bowl, toss the spinach, arugula and apples with some of the dressing.

Top each salad with persimmons, pomegranate seeds and pecans. Enjoy!
Here is a Pin-able collage for your Pinterest boards