Pumpkin squares make a great rustic dessert as they are, or top them with dairy whipped cream or whipped coconut cream or as a unique and awesome breakfast square topped with yogurt.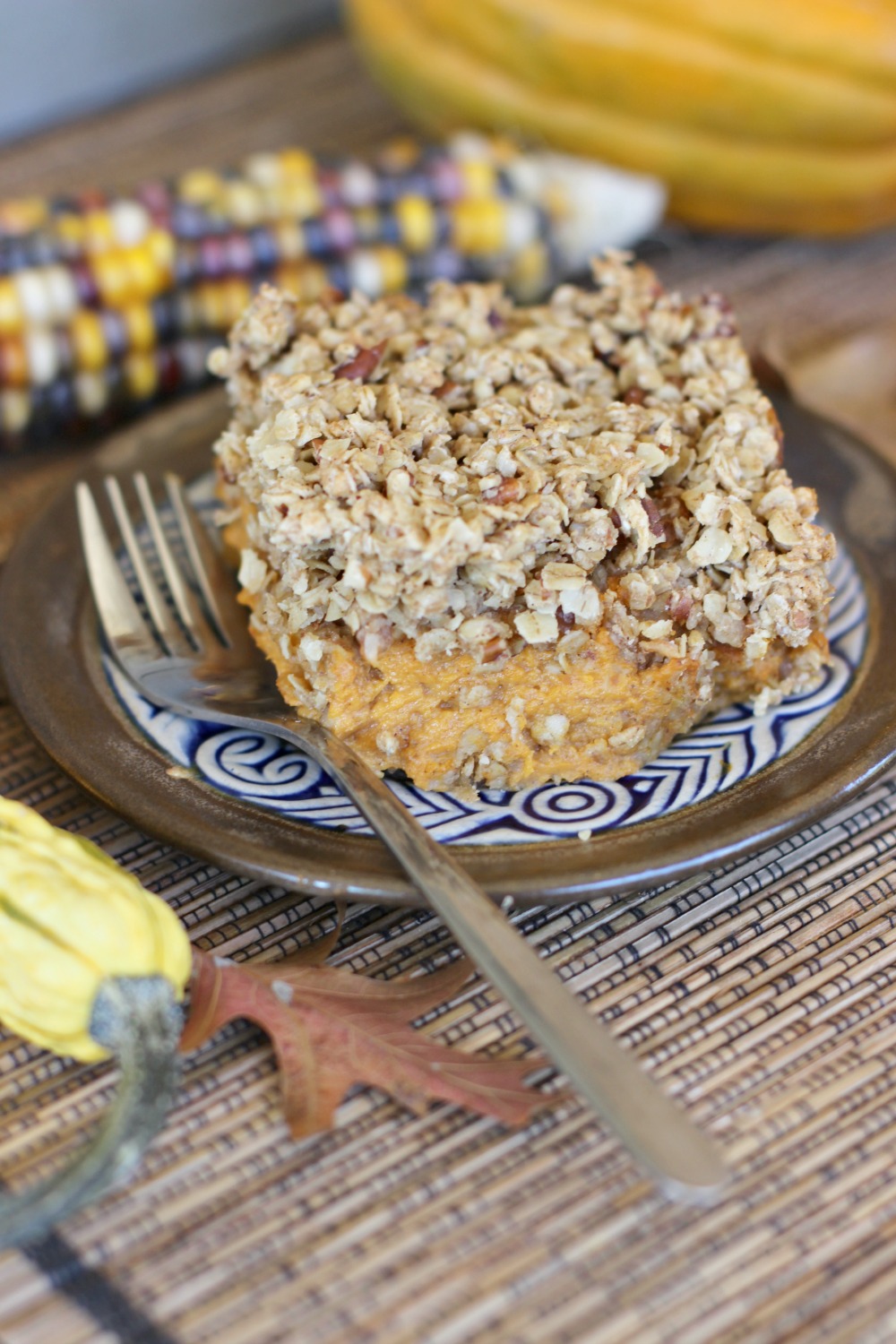 Fall is here to stay
This is the last week of the Farmer's Market in Saint Helena (sad face!) because it's getting cooler here in Northern California and even here in California, a lot of the markets close down in the late fall.
Last week when I went to the Farmer's Market, it was the 2nd to last of the season and squash and pumpkins were in abundance – I couldn't resist getting my favorite pumpkins and squashes.
Pumpkin Time
So in celebration of the season, I guess it's time for me to jump on the old pumpkin bandwagon too! It's such a favorite this time of year – from coffee flavors to who knows what. If something can have pumpkin and pumpkin spices in it, it seems like it will!
What is it about all this pumpkin stuff anyway? Comfort food? I think those warming spices really fill a need during these cool fall days – it brings on those feelings that seem to surround us like a cozy blanket and a warm fire. We just love that stuff, don't we?
Over 10 years ago, I lived on a 100 acre farm in southern Vermont. We grew almost every type of vegetable and herb there but the things that always seemed to grow the best were root vegetables like carrots, parsnips, beets and a huge amount of pumpkins and winter squash.
So because of all the squash and pumpkins grown on the farm, pumpkin and/or squash squares were a regular fall treat. Pumpkin squares are just a variation of a pumpkin pie, but besides being a good dessert, it's also a great breakfast square with a cup of coffee or tea.
Pumpkin Squares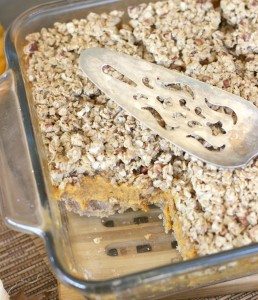 This recipe is for a vegan variation of these pumpkin squares, but for a vegetarian version you could replace the silken tofu with eggs and replace the Earth Balance Coconut Spread with butter. But, I have to say, it's actually very good just the way it is!
I used canned pumpkin in this recipe because I know baking the actual squash or pumpkin is a lot more time consuming. But, if you have the time, baked butternut squash is a good choice for the filling. Just replace the canned pumpkin with the same amount of baked squash.
Here is the Recipe:
Pumpkin Squares
This square is great for a dessert either plain or with your favorite topping or it's also great with a hot cup of tea or coffee for breakfast either plain or served with non-dairy or dairy plain yogurt
Servings:
9
- large pieces
Ingredients
Bottom Crust
1 5/8

cup

spelt flour

or flour of your choice

pinch of salt

1/2

cup

Earth Balance Coconut Spread,

or butter for non-vegan

1/4

cup

maple syrup

2

tsp

vanilla extract
Filling
1 15

oz

can of pumpkin

1 12

oz

pkg soft silken tofu,

or 2 eggs for non-vegan

2

T

cornstarch

pinch of salt

1

cup

sugar of your choice

1

tsp

ground cinnamon

1/4

tsp

ground ginger

1/4

tsp

ground nutmeg

1/8

tsp

ground cloves

1

tsp

vanilla extract
Topping
1 1/2

cups

quick oats

1/2

cup

chopped pecans

pinch of salt

1/8 - 1/4

tsp

ground cinnamon

1/4

cup

oil

1/4

cup

maple syrup

1

T

vanilla extract
Instructions
Preheat your oven to 350 degrees F

Lightly oil a 9" x 9" square glass baking pan

For the bottom crust:

Combine your spelt flour, salt and Earth Balance Coconut Spread (or butter) using a hand held pastry blender or a fork until the mixture resembles coarse crumbs

Add your maple syrup and vanilla extract and combine well

Press this crust mixture in the bottom of your baking pan and pre-bake it at 350 degrees F for 10 - 12 minutes

While the crust is pre-baking, prepare your filling

Combine all your filling ingredients, pumpkin, tofu (or eggs}, cornstarch, salt, sugar, vanilla, cinnamon, ginger, nutmeg, and cloves in a food processor with the S blade and process until smooth - you may need to stop and scrape the sides once and then continue processing

When the bottom crust comes out of the oven, let it sit for about 5 minutes and then top it with this filling.

The topping is made my combining the quick oats, chopped pecans, salt, cinnamon, oil, maple syrup and vanilla until they are thoroughly mixed and form a crumble

Sprinkle the crumble over the top of the pumpkin filling and press it gently into the filling

Pop it in the oven and bake at 350 degrees F for 40 minutes. Take it out and cool for 10 - 15 minutes before cutting it into squares.
I hope you enjoy this recipe. Drop me a note in the comments if you have any questions or comments you'd like to share. If you make a pan of these pumpkin squares, let me know if you liked them or if you made any changes to them. I'd love to hear from you! ~ Debra