Roasted eggplant and colorful bell peppers makes a flavorful salad topping or filling for lettuce leaves in this Roasted Eggplant and Bell Pepper Salad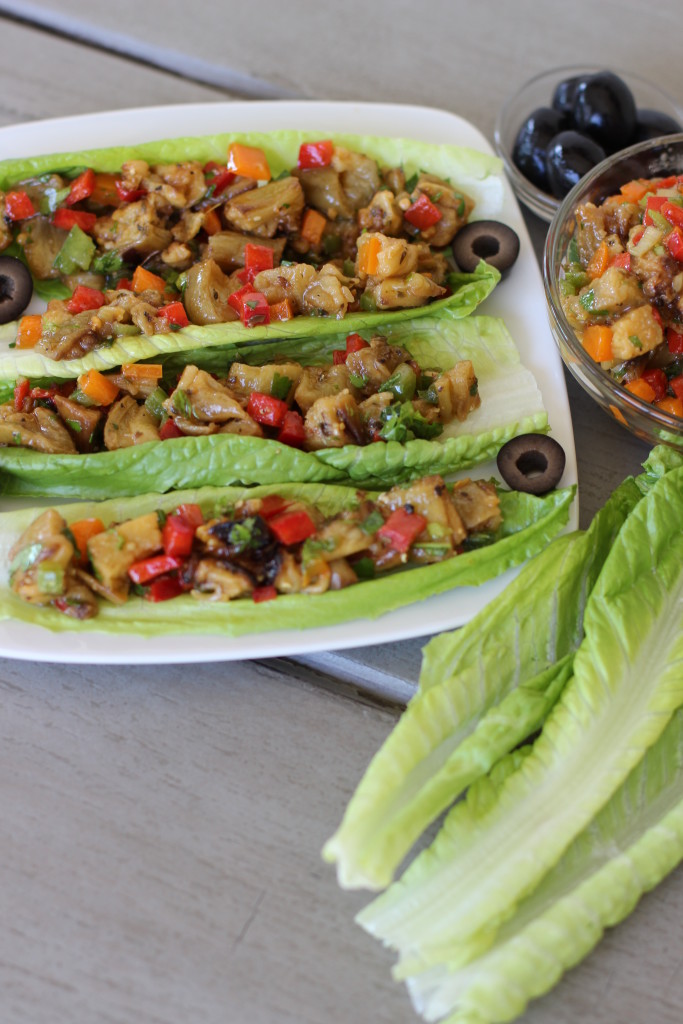 I don't know what it is about eggplants, but they are so appealing to me, especially lately. There is a rich and earthy taste about them that I really enjoy. They are also a heartier vegetable if you are looking for something a little more filling in the vegetable department.
Every week I try to buy a package of organic bell peppers at Trader Joe's. I love how they have 3 colors in one pack – red, orange and yellow. I then just buy a package of green bell peppers and there I have it – 4 colors of bell peppers! Besides being tasty, they just make food look so pretty. Do you like your food to have eye appeal too?
Recently, I've started to grow parsley and cilantro in large pots close to the house because I find that those are the herbs I use the most. They are both healthy, tasty and add such a nice accent to food. Do you grow any culinary herbs? I feel bad because when I buy bunches of parsley and/or cilantro, I rarely use the whole bunch before it goes bad so growing some in pots is a good solution for me.
So let's start here: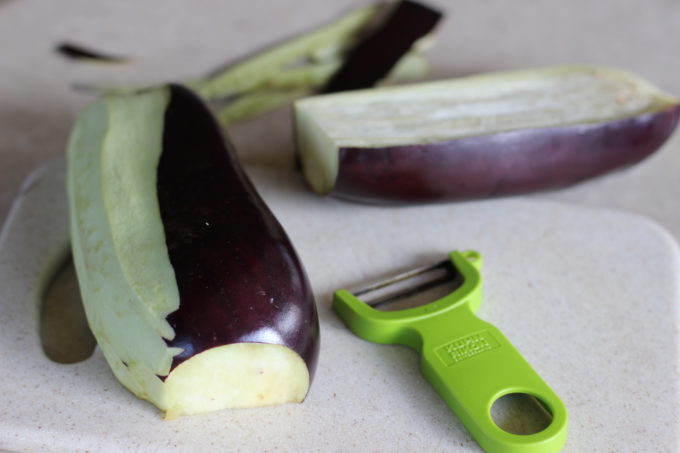 Here, I've peeled my eggplant but I don't think that's absolutely necessary. Sometimes a little of the black peel looks nice and it tastes fine too. Make sure that your eggplant is firm to the touch and not spongy feeling.
Next, I cubed my eggplant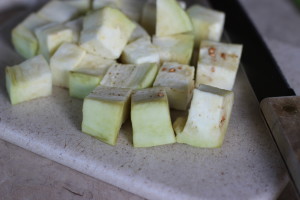 I then put my eggplant cubes in a bowl, added the seasonings and tossed it all together very well.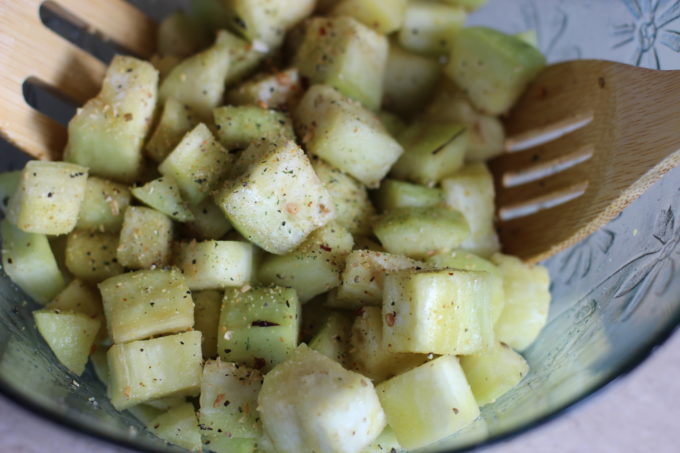 Then I spread the seasoned eggplant on a parchment lined baking sheet and put it in the oven at 425 degrees. Make sure to check on it every 5 or 10 minutes to stir and then spread out again. Roasted eggplant is a nice variation.

While your eggplant is roasting in the oven, start preparing your colorful peppers and other remaining ingredients.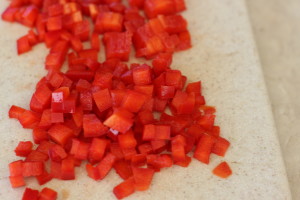 When the eggplant is done, it will look like this.

I love to make this eggplant salad ahead and keep in my fridge for a quick go-to lunch at home to have with romaine leaves, or on a salad and it's also really delicious with crackers. It's a perfect lunch to take with you to work or school since it packs up easily. Keep this salad in a separate container and combine with your lettuce leaves, top your salad or eat with crackers when lunch time comes and bon appetite!
Here is the recipe:
Eggplant and Multicolored Pepper Salad
Delicious eggplant and bell pepper salad perfect for a lunch at home or to go
Ingredients
2

cups

eggplant

cubed

1/2

cup

red bell pepper

chopped small

1/4

cup

orange bell pepper

chopped small

2 1/2

T

green bell pepper

chopped small

1 -2

cloves

garlic

crushed

1

green onion

sliced, scallion

2 - 3

T

parsley

minced

1

T

olive oil

2

T

water

juice of 1/2 lime

salt & pepper to taste

Black olives

sliced (optional)

*Serve with romaine lettuce
Instructions
Take your eggplant and cut in it half the long way

Peel if you like or keep the peel on if you prefer

Cut the eggplant into 1"cubes

Toss in a bowl with about 3 T of olive oil and seasonings like onion & garlic granules, salt & pepper

Spread in one layer on a parchment lined baking sheet

Put in the oven at 425 degrees for about 30 minutes, stirring every 10 minutes in the beginning and more frequently towards the end.

Combine with rest of ingredients, toss and chill for at least an hour

*Serve on small romaine lettuce leaves (lettuce hearts) or as a topping on a bed of lettuce or salad. It's also good as a topping for crackers.
recipe inspired by: Cherie Soria @ www.rawfoodchef.com