Chocolate Silken Tofu Pudding – easy to make with just 4 ingredients – sweet, rich & creamy deliciousness!
If you're looking for something sweet, rich, creamy, non-dairy and chocolatey you've come to the right place. This Chocolate Silken Tofu Pudding is all about those things.
This recipe is made with silken tofu but don't worry, it doesn't taste like tofu at all. If you didn't know it was made with tofu, you wouldn't even guess it was. The silken tofu just makes things very creamy without that "beany" taste.
Super simple and quick to make is what's happening with this recipe. This pudding comes together in about 15 minutes with only 4 ingredients and 1 optional one.
The recipe can be either vegan or vegetarian depending on which dark chocolate chips you use.
Luscious Creamy Chocolate Dessert
As a stand alone dessert, this seemingly "decadent" Chocolate Pudding will surprise you with its simple elegance. It will satisfy any sweet tooth! And if you want, top it with a little whipped coconut cream for added creamy deliciousness.
This recipe is also great as a dip or spread – try it on a slice of toast or your favorite quick bread.
It's especially yummy as a dip for fresh strawberries or piped onto fresh strawberry halves. Chocolate and strawberries really go well together.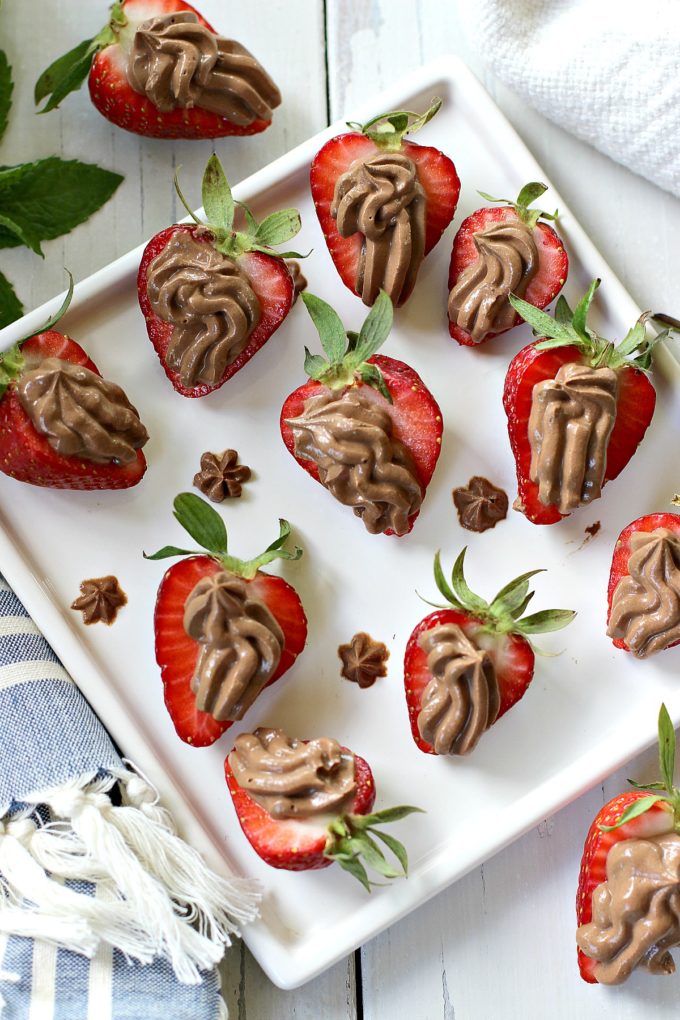 Chocolate Silken Tofu Pudding
Made with just a few simple ingredients, this super easy to make pudding will surprise you with its creamy chocolate deliciousness!
Ingredients
2

pkgs

FIRM silken tofu

12.3 oz. size

2 1/2

cups

dark chocolate chips

1

tsp

pure vanilla extract

1 or 2

pinches

salt

1 - 2

Tbsp

strong brewed coffee (optional)
Instructions
Place the silken tofu, vanilla, salt and (optional) strong brewed coffee in the bowl of a food processor with the metal S blade

Melt the chocolate chips in a metal bowl over a pot of hot water or use a double boiler. The water should be hot but NOT boiling and NOT touching the bottom of the bowl

Stir with a rubber spatula until the chocolate chips are melted and creamy

Add the melted chocolate chips to the other ingredients in the food processor and process until smooth and creamy. Stop and scrape the sides as needed with a rubber spatula and then continue to process until everything is smoothly combined

Scrape the pudding into a bowl and cover and refrigerate for at least an hour to chill

Serve as is or topped with whipped coconut cream, use as a spread or as a dip for strawberries
I'm sure that anything that goes well with chocolate would be a compliment to this pudding – like orange wedges for example or raspberries! But even by itself, it is definitely a special treat – even just sneaking a spoonful or two from the fridge – not that I've tried that or anything 😉
Enjoy!